Published: February 28, 2019
NDC Technologies, a leading global provider of precision measurement and control solutions, takes exhibition to a new level by treating visitors to a one-of-a-kind, augmented reality experience. Visitors to Booth 611 at ICE USA 2019 (Louisville, KY), will get the opportunity to navigate, explore and interact with a virtual, life-size gauging and control system measuring a moving converted web product. NDC plans to also display its range of the latest gauging systems for converters designed to optimize product quality, increase productivity and reduce production costs.
"Our Augmented Reality exhibit I believe will be a real first at this year's ICE Europe," said Jay Luis, global marketing communications manager for NDC Technologies. "We'll be displaying a virtual demonstration of a complete measurement and control system for converting applications. It will look as though the entire measurement system and moving web product are actually on the booth floor."
Using tablets as the window into this virtual environment, users can get a close-up look at NDC's versatile Near Infrared IG710e reflectance gauge that measures moisture, coat weight, coating/laminate thickness on a range of paper, board and film-based substrates. The virtual IG710e will be running on a NDC's virtual MiniTrak S-Frame single-sided scanner, moving back-and-forth across the web to make measurements on a virtual label stock. Viewers will be able to see critical process data on the company's virtual, advanced Pro.Net TDi process controller.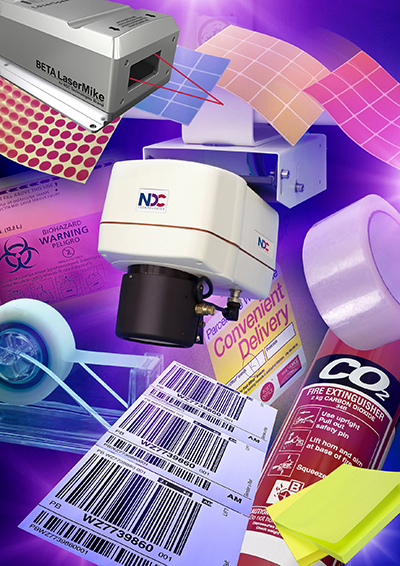 Web Gauging Solutions
NDC offers a range of web gauging and control technologies to perform in-process measurements of coat weight, coating thickness, lamination and moisture of converted products. This ensures each system is individually optimized to suit the product and the operational needs of the customer. Gauging technologies include Near Infrared, Beta, Gamma, X-Ray and optical technologies.
In addition to the virtual exhibition, NDC plans tol display the following Near Infrared gauges:
SR710S – accurately measures thin coatings on metallic foils, metalized paper and plastics during the process.
ConvertIR – offers fast, fixed-point, on-line measurement of paper moisture or coat weight of coatings on paper and films.
Moistrex MX8000 Moisture Analyser – provides paper and board makers, paper converters and printers with fast, accurate paper moisture content measurements across a wide variety of papers, either at-line or in the QC laboratory.
Web Surface Inspection
Also on display is NDC's Web Surface Inspection System (engineered by R.A.M.) that provides 100 percent product coverage, enabling manufacturers to achieve zero defects. Systems include powerful capabilities to instantly detect, classify, document and record all optical defects across a broad scope of web materials.
Product Length and Speed
NDC's latest Beta LaserMike LaserSpeed Pro encoder measures the length and speed of any moving surface with better than ±0.03 percent and without ever contacting the product. LaserSpeed Pro uses laser-based technology to precisely measure both web and packaging products for paper, film, sheet and foil. Applications include measuring product length and speed at the slitter/rewinder, regulating coating/laminating applications, controlling critical length cutting operations, adjusting roll speeds in flying-splice processes and monitoring web tension of products. Converters realize numerous production efficiencies and material savings.
For more information, visit: www.ndc.com.