Published: October 17, 2017
MINNEAPOLIS, MN | AMETEK MOCON, a global provider of instruments and services for testing, measuring, and analyzing invisible gases, has launched the next-generation AQUATRAN Model 3 measurement instrument, designed to measure the water vapor transmission rate (WVTR) of ultra-high-barrier materials.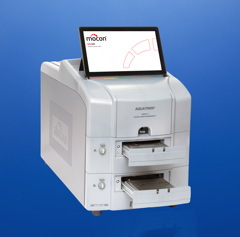 These materials include flexible films for organic light-emitting diode (OLED) displays, solar panels, and similar demanding applications, which require accurate and sensitive instrumentation to confirm performance attributes.
Ryan Holland, product manager, AMETEK MOCON, says, "The use of OLEDs for consumer electronics, such as televisions and photovoltaics for solar panels, is growing exponentially. However, the electronic components within OLED displays are extremely sensitive to water vapor. The slightest exposure to humidity can cause a series of problems that significantly decrease a product's usable life. The AQUATRAN Model 3, with its easy-to-use interface, puts the testing capability into the hands of a wider user base."
The new system measures each molecule of water vapor that passes through the sensor, and it requires no calibration. The response is linear throughout the entire measurable range of the sensor, so measurements of ultra-barrier materials are guaranteed to be highly accurate and repeatable, company says.
This email address is being protected from spambots. You need JavaScript enabled to view it.