Published: May 18, 2017
PHILADELPHIA, PA | Pruftechnik offers the VIBGUARD compact intelligent online condition monitoring system. It features six fully synchronous measuring channels for continuous data acquisition and observation of up to six operating conditions. Also offers characteristic value trend storage with adjustable data reduction and Intelligent Event Recording.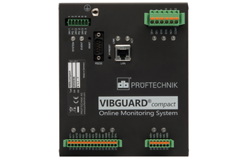 Company says the unit fulfills the high maintenance requirements of critical individual assets, characterized by high availability, high aggregate value, complex drives, and changing operating conditions.
All six measuring channels are designed as highly dynamic analog input channels and can be equipped with either standard ICP vibration sensors or with voltage input signals for process variables. They provide in depth diagnostic data such as time signals or envelope signals, and up to six characteristic values such as vibration characteristic or bearing condition.
Product is said to ensure reliable monitoring—even with frequently changing operating conditions. It can thus protect against unplanned downtimes, secure production, and sustainably increase asset efficiency.
An "Intelligent Event Recorder" stores relevant results, fully automatically and continuously, providing the fundamental basis necessary to comprehensive machine diagnostics. Its bidirectional Modbus TCP interface enables instant VIBGUARD compact Online Condition Monitoring System integration to Industry 4.0 environment.
This email address is being protected from spambots. You need JavaScript enabled to view it.