Published: December 13, 2016
CAPE TOWN, South Africa | ROTOCON, a provider of consulting and service to South Africa label converters in the narrow web industry today, reports the sale of the Helios S inspection solution from AVT with two WorkFlow Links to Uniprint for integration with two of its slitter/rewinders.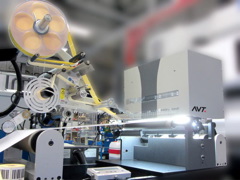 Helios S is an automatic inspection system said to deliver 100% quality assurance. Company says user-friendly design deploys dedicated, advanced algorithms designed to detect any type of defect including color mis-register, color variations, misprints, text errors, spots, splashes, die-cut problems, barcode problems and missing labels. The system reportedly works seamlessly on any substrate including self-adhesive labels, thick embossed metalized substrates, highly reflective holographic foils, and laminates.
Also ordered by Uniprint were two AVT WorkFlow Links, an optional add-on module for Helios S that utilizes information recorded on press to automatically stop a rewinder, avoiding unnecessary stops on non-defective products and significantly improving overall production efficiency.
Lorne Andersen, production and technical manager at Uniprint Andersen, says, "ROTOCON has proven to be a valuable supplier to Uniprint with years of outstanding service and support through their local office in Durban.…The AVT Helios S system will be a valuable extension to our finishing department, and we can rely on ROTOCON to provide any necessary support."
This email address is being protected from spambots. You need JavaScript enabled to view it.