Published: March 31, 2015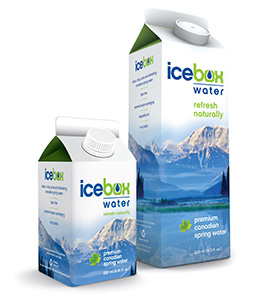 COLD SPRING HARBOR, NY | With a commitment to children's health, Icebox Water now offers smaller, 250mL recyclable, BPA-free cartons for easy storage in backpacks and lunchboxes. This clean, pressed paper solution promotes healthy hydration habits and is a catalyst for environmental engagement.
The Pure-Pak cartons, manufactured by Elopak, are now available in 250mL and 500mL sizes.
The new 250mL Icebox Water cartons are designed to deliver delicious, healthy refreshment for active kids. As the only provider of pure spring water in a recyclable pressed paper carton, Icebox Water encourages children to drink water with a "cool" carton and crisp refreshing taste. As parents search for more healthy and sustainable products for their kids, Icebox Water's BPA-free carton meets standards of safety, quality and purity for children's health needs.
As part of its Brand Ambassador campaign Icebox Water has partnered with 8 year-old avid mountain biker, Quinn Kingsbury, to inspire an active lifestyle while maintaining environmental responsibility. Icebox Water commits to empowering this ambassador to lead the ride to healthy hydration.
"Our goal of reducing plastic waste is best achieved when everyone has access to sustainable products," says Andrew Reynolds, co-founder of Icebox Water. "The smaller 250mL cartons provide kid-friendly hydration, while encouraging the 'reduce, reuse, recycle' discussion and ultimately allowing children to also make a positive impact on the planet from an early age."
In addition to health benefits and on the go convenience, parents can feel good about their environmental impact when choosing Icebox Water. According to a Nielson report, 55% of global online consumers are willing to pay more for products from companies that are committed to social and environmental impact. Offering the same convenience of plastic water bottles, Icebox Water is composed of 76% less plastic than traditional plastic water bottles and is compostable in 2-24 months with the removal of the cap and spout.
Competitively priced and availability for online purchase, Icebox Water makes sustainable purchasing affordable and convenient for busy families.
With the new 250mL cartons, kids now have a responsible and sugar-free grab-and-go beverage to fit their lifestyle. The conveniently sized cartons pack easily into sports bags, backpacks, and lunchboxes and stack well for easy at-home storage. Each small carton reduces human impact on the planet.