Published: April 19, 2012, By Yolanda Simonsis
Everyone was hopeful that 2012 would mark an improvement in the attendance of trade shows and conference programs. It would signify, many thought, the converting industry was on a sure path to health and success with potential buyers expressing an interest in learning about and purchasing new technology or implementing new strategies to improve bottom lines. It appears promising that this may be the case.
NPE was held April 1-5 in Orlando, FL, at the Orange County Convention Ctr., and was reported to have "substantially exceeded NPE 2009 in size, and it attracted more participants from outside the United States than any other NPE in history," according to SPI, the Plastics Industry Trade Assn.
A press release summarizing the event's success reported the numbers: Taking place in a venue that marked a dramatic shift after four decades in Chicago, NPE 2012 attracted 1,933 exhibitors, more than in each of the three previous NPEs. The total exhibit space occupied at NPE2012 was 939,972 sq ft, (87,326 sq m), or 23% greater than in 2009, which was adversely affected by the Great Recession. There was a 26% increase in attendance, as 55,359 plastics professionals participated in NPE 2012. These visitors represented 19,283 unique companies, as against 18,600 at NPE 2009.
Further bolstering confidence in the industry's good health were two back-to-back well attended events held by AWA Alexander Watson Assoc. The first was held in Chicago at the University Club on Mergers & Acquisitions on April 16 with about 70 delegates interested in learning strategies to support corporate growth and expansion as they prepare for increasing demand for converted products as the US economy moves forward.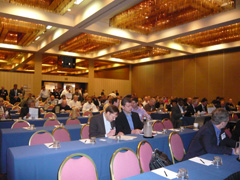 AWA hit another homerun with its International Sleeve Label Conference, held at the Hyatt Regency on April 18—19 in Cincinnati, OH. Now in its sixth edition, the event attracted over 200 pre-registered attendees plus an additional 20 walk-ins. Sleeve labeling, according to one delegate whose present primary interest is in pressure-sensitive applications, is in an expansion mode, and he wanted to be readily able to expand his company's expertise in a label segment demonstrating good growth. Global growth for all sleeve label formats is estimated at 6.5%.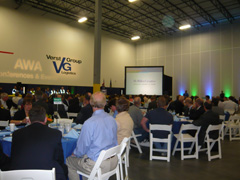 A plant tour to platinum sponsor Verst Group Logistics' Hebron, KY, plant was one of the highlights of the event along with a focused table-top exhibit cosponsored by platinum sponsor Accraply, as well as Avery Dennison, Bonset, CCL Label, Karlville, CYTEC, Eastman, Klöckner Pentaplast, SACMI, Schober, and Sidel.
And finally, CPP Expo-The Cleveland Show staged its first event there on April 18—19. While attendance was less than expected, HA Bruno announced it has just signed an agreement with the Graphic Arts Show Co. to partner CPP Expo with PRINT 13 in the fall over the dates of September 8—12, 2013, at Chicago's McCormick Place. They're expecting a bright future.
Congratulations to all!