Published: April 06, 2012, By Yolanda Simonsis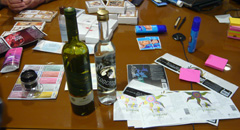 TEL AVIV | Judgment of HP Indigo's worldwide Print Excellence Awards over the course of two days on March 27 and 28 was nothing short of astounding. Of the company's some 3,600 Indigo customers, 232 (approximately 6%) submitted entries to the competition. Arriving at the final number of winners receiving first, second, or third-place awards in each category was no easy task in the segment I judged (labels and packaging), largely because most of the submissions were so well executed.
A film crew was on site to interview the judges over the course of the two-day event, with the intention of exposing judges' overall, as well as specific, impressions of the competition and individual entries. During post-competition chats with my judging peers, it was unanimous, the judging task at hand was extremely difficult, and the quality of printing across the board was remarkable, whether the end product was commercially oriented, sign and display, or labels and packaging.
While I can't reveal anything regarding the winners yet, I would urge those who plan to attend drupa to descend upon the HP stand (Hall 04/D60-1) to experience and discover for yourselves where your own printed products compare in relationship to the winners. You will be bowled over by the richness of design, print execution, and complexity of many of these jobs.
Digital made its entrance to the converting industry in the mid-'90s beset with many challenges in order to adequately serve the demands of brand owners' and converters' for significantly faster speeds than digital was able to offer even for short-run jobs. And while "personalization" was an attractive initial selling point of digital (and still is), the technology seems especially suited for jobs with multiple SKUs or versioning as well as for jobs that are particularly challenging for traditional printing methods.
Speeds have significantly increased. With HP Indigo's announced introduction of wider presses in 2013 to serve the flexible packaging and carton industries at web widths up to 30 in. (and the ability to run in enhanced productivity modes to increase speeds even further), I envision within the next few years our printing and converting industry will experience a sea change not unlike the change the world experienced with the introduction of the Internet.
We live in a brave in new world of print.