Published: March 02, 2016
Campbell's Soup Ready Meals package earns Highest Achievement Award.
The Flexible Packaging Assn. (FPA) has announced the winners of its 60th Annual Flexible Packaging Achievement Awards. The winning entries were recognized March 1 during the association's 2016 Annual Meeting at the Ritz-Carlton Golf Resort, Naples, FL.
This year, 78 packages were submitted for competition, with a total of 164 entries (some packages were entered into multiple categories). A total of 19 packages are being honored with 20 Achievement Awards.
A number of innovations offered greater convenience and functionality including zippers and Velcro and dispensing fitments. Several new film formulations offer both greater product visibility and strength. Sustainability continues to be a focus, with a number of entries reducing layers and downgrading thickness to reduce overall material volume.
Companies taking advantage of recent advances in printing made the Printing Excellence category particularly competitive this year. Printing innovations included promotional effects, matte films, varnishes, and anti-counterfeit features.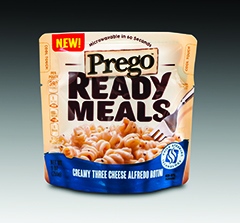 HIGHEST ACHIEVEMENT AWARD
The Highest Achievement Award is evaluated by the judges as possessing overall packaging excellence, significant attributes in all award categories, and contributing most to the advancement of the industry.
The Bemis Ready Meals package is the first self-venting retort pouch for portable meals that looks and functions like a bowl. The BPA-free, microwavable standup pouch makes it possible to enjoy hot meals virtually anywhere in 60 seconds, no refrigeration needed.
The easy-open tear creates an instant bowl: consumers can eat right out of the pouch, with easy cleanup. The microwave-friendly design includes cool touch zones, Magic Steam technology and controlled venting to eliminate hot or cold spots.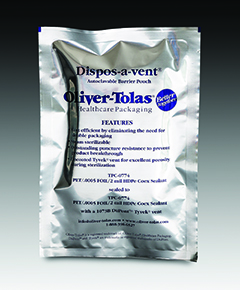 GOLD ACHIEVEMENT AWARDS
The following five packages (listed alphabetically) were judged to merit a Gold Achievement Award.
The Autoclavable Dispos-a-vent Barrier Pouch provides medical device manufacturers a flexible packaging option for devices requiring autoclave (steam) sterilization and moisture protection.
The Autoclavable Dispos-a-vent Barrier Pouch can withstand the high temperatures of autoclave sterilization and provide barrier to moisture egress for devices requiring moisture to remain in the primary package after sterilization and until point of use.
Daisy Brand Sour Cream Squeezable Pouch with Reclosable Dispenser Fitment
Award: Gold – Technical Innovation
Manufacturer: Sonoco Flexible Packaging
The unique Daisy Brand sour cream package takes food packaging in a creative and functional direction. The Daisy Squeeze package is an inverted, wedge-shaped pouch with a flip-top dispensing closure. The blue closure incorporates a dispensing valve and a tamper-evident pull ring.
Consumers flip the cap open, remove the ring and squeeze the package. Sour cream is dispensed, stopping when the squeezing stops. Benefits include easy-to-control, drip-free dispensing—and no spoon to wash.
Fresh N Tasty Bakery 12-Count Cookie Pouch
Award: Gold — Sustainability
Manufacturer: Robbie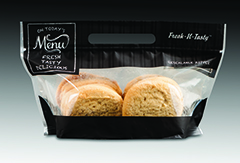 Fresh N Tasty Bakery Pouch was developed for the in-store bakery department for their fresh-baked cookies and other goods. With stay-fresh barrier properties, the Fresh N Tasty pouch answers the busy consumers desire to provide their family with fresh baked cookies that stay fresh longer.
Pouch also features a high-visibility window for viewing the product, a slim design for easy storage and an easy-carry handle and resealable zipper that assures freshness.
KOHINOOR Anti-Slip Bag
Award: Gold — Printing and Shelf Impact and Gold – Packaging Excellence
Manufacturer: Flex Films (USA) Inc.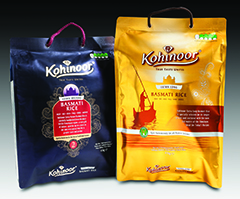 The bag is used for the packaging of premium rice. The special feature of this bag is an anti-slip device that prevents the bags from slipping over each other and off the stack when stacked one over the other on its flat face for unitizing (stacking, palletizing, stretch/shrink wrapping, and secondary packaging) during transportation and during display on the shelf. The anti-slip property is achieved by using a special micro-embossing process on the finished laminate prior to bagmaking.
The micro embossing is registered so as to appear only on the central portion of the bag and is not visible when viewed normally. Therefore, it does not affect the graphics in any way. It is also so designed that it does not physically puncture the film surface so that barrier properties remain unaffected and there is no development of micro-pores that allow mites or micro-organisms to enter the package. The embossing delivers a very high coefficient of friction that prevents any slippage of bags when stacked several feet high.
Lay's Summer Promotion
Award: Gold – Printing and Shelf Impact
Manufacturer: Emerald Packaging Inc.
The Lays Summer Promo is a digitally printed lamination incorporating variable data printing to allow for unique customer submitted photographs to be incorporated onto each package. In addition the package contains a unique bar code linking the photograph to the package and the package to an individual consumer. http://www.emeraldpackaging.com
HOLDING THE GAVEL
The judges for this year's competition included Eric Fish, editor in chief, Flexible Packaging Magazine; Bill Burke, executive VP, Aperia International; and Dr. Robert Kimmel, Sc. D., associate professor, director, Center for Flexible Packaging (CEFPACK), Clemson University.
For a complete list of winners, visit www.flexpack.org.