Published: May 28, 2013
GREENVILLE, WI | Badger Plug offers steel plugs ranging from 1–12 in. in diameter. Light- and heavy-duty plugs are available in both flange and flangeless models.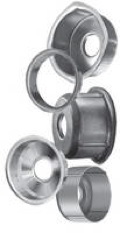 Company offers a wide selection of steel core plugs along with other roll protection and suspension products, including plastic and wood core plugs, sleeve plugs, wooden end boards, plastic pad plugs, and a number of other innovative roll shipping solutions. In-stock inventory is said to allow for immediate shipment. Custom engineering and design services are also available.
This email address is being protected from spambots. You need JavaScript enabled to view it.