Published: April 27, 2006, By Nsenga Byrd Thompson, Associate Editor
RFID Implementation
While radio frequency identification (RFID) experiences growing pains, many converters are sitting back, watching the progress of the still-evolving technology.

But despite the challenges, early implementation has its rewards, as the following three pioneers will attest.
A Competitive Edge
When MPI Labels jumped into the RFID arena five years ago, it seemed like a natural progression for this experienced converter. With $90 million in annual sales (including a portfolio of converting applications and a sizeable equipment distribution business), MPI's customers supply top US retailers preparing to implement RFID in their everyday warehouse operations. Moving into RFID was a decision MPI knew it had to make early on. "If we wanted to compete and secure our basic label business, we were going to have to provide these solutions as well," notes Gerard Kelly, VP, Machine Div.

MPI executives began investigating the RFID market, making a visit to Germany to find insertion equipment for putting the RFID transponder into the label.

"We looked at a couple of manufacturers over there and chose a Melzer STL-L100. It was September 2002 when we brought the equipment in-house and started converting RFID labels. We've been doing it a little over three years," Kelly explains.

MPI made several modifications to the Melzer equipment, including the addition of a very thorough inspection system, which Kelly maintains is critical, since inlays in the past have been "notoriously bad."

"It's critical to inspect [the inlays] before you insert them and get rid of them [if they are faulty]. Then it's critical that you inspect them after you insert them, so once the label goes out of the dock, it's good. We've created our own systems to do that."

Kelly is quick to add there are obstacles to overcome that MPI can't control regarding the effectiveness of the labels. "On the outbound side, if we determine it's bad, we remove the label and replace it with a known good one, so we're shipping as close to 100% as you can get. But when the customer gets it and they put it into a printer to encode it, the printers are still not there [technologically]," he says. "The customer gets on the phone [to call us] and says, 'Our printer is rejecting all of these. What are you doing to me?' We have no control over that. It's frustrating for our customers. It's frustrating for us. The reliability of the printers is constantly improving, but not all manufacturers have resolved their problems."

Kelly reports printers are getting better, and there were vast improvements in '05 with the reliability of the inlays and the emergence of the Gen 2 standard, which has improved communication issues.

MPI recently expanded its relationship with its largest RFID inlay supplier, Alien Technology. Previously, MPI had received qualification from Alien allowing MPI to convert, test, and direct-ship Alien transponders. The new partnership is said to allow MPI to offer significantly lower prices on Gen 1 and Gen 2 RFID labels to match or surpass the cost savings offered by competitors.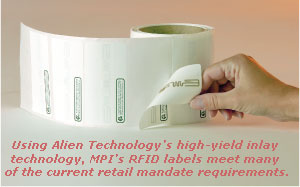 "The quality on the Alien Gen 2 [inlays] is much better than Gen 1. We're seeing much lower rejection rates [and] getting only a fraction of the rejects as before. Quality absolutely has improved."

Although MPI's investment has reached well into the seven figures (with 85% of its RFID business directly related to Wal-Mart's 2004 mandate), Kelly admits the return on investment has been slow going, supply is well over demand, and he doesn't foresee RFID in the supply chain becoming mainstream for another three to four years. However, MPI remains excited about RFID implementation. Kelly predicts when major retailers, especially Wal-Mart, are back on track with their mandates and can say, 'We're ready, and you have to have it,' implementation will pick up considerably.

Kelly is confident that MPI's early involvement and sizeable investment will continue to solidify the company as one of RFID's biggest players.
Creating a Niche
Not every converter exploring RFID is trying to fulfill compliance requirements or mass-produce RFID labels and tags. Serigraph Inc.—specialists in overlays, decals, point-of-purchase displays, badging, and heat transfer—has found its own niche in the RFID marketplace.

Three years ago, Serigraph was approached by Mikoh Technologies, a designer of security and digital marking solutions. The companies discussed how they could work together to offer new products to the industry. RFID became the logical choice to bridge the two companies together.

Incorporating Mikoh's proprietary "Smart and Secure" tamper-evident RFID technology with Parlex's printed antenna, Serigraph screen prints graphics onto the tags, die-cuts, and finally inspects each tag before it is sent out to customers. The result is a graphically appealing RFID tag that has the added advantage—thanks to the Mikoh technology—of disabling itself if it is tampered with or moved, preventing the tags' use on counterfeit or substitute products.

Joe Klahn, Serigraph's business unit manager for consumer electronics, describes the delicate printing process.

"Our engineering group has designed what we call a jig, which we lay on the table of our printing press. It opens up an area for the inlay to [be] set into, so that we don't damage the connections to the inlay or the antenna," Klahn explains. "We also work very closely with Mikoh and their customer base to design a 'keep-out' area where we try to keep the graphics a certain distance from the inlays to prevent any damage in the printing process."

Currently Serigraph is experimenting with flexo printing the graphics onto the tags to speed up the printing process. The company also is working to internalize the inlay production process, eventually hoping to print the inlay antennas in-house. Klahn says, "We want to take the number of steps out of it [and eliminate] transporting from one location to the next. We want to try to get it all under one roof."

Klahn says Serigraph will continue to work closely with Mikoh and to grow its own RFID capabilities as a vertical market. "Right now, it's a small percentage of our overall portfolio, but it's something where we can see a lot of opportunity in niche applications to provide decoration and to grow our sales."
Making Progress
Described as one of only a few vertically integrated manufacturers of RFID labels in the US, RSI ID Technologies offers a full range of RFID and bar coding solutions including systems design, engineering, integration, service, and support.

Founded in 1991 as a label provider, RSI has branched out to become a leading RFID label producer, manufacturing for both compliance and closed-loop RFID markets. The company produced more than 30 million RFID labels in 2005.

"We attack both [compliance systems and closed-loop] markets, and what we do as a company is try to understand what the customer wants to accomplish and give them the best solution," says CEO Wolf Bielas.

Thanks to RSI's early involvement in RFID development and production, Bielas says the company has overcome the challenges facing many converters moving into the market today.
"At the beginning, everybody was in their 'micro' world trying to do their part without understanding how the whole [RFID] world worked. I think that has changed dramatically," Bielas says. "One of the long-running challenges is really educating our suppliers and trying to make the connection between how the product actually is converted into a label and how the product is going to be used.

"There was a lot information that was passing from person to person, and some of that information was not accurate. We have seen more communication and collaboration with suppliers, and that has played a very important part."

A key collaboration RSI made early on was partnering with Avery Dennison, a longtime RSI supplier. When the company decided to move into RFID, Bielas immediately went to Avery.

Since that very early collaboration, Avery Dennison has established its RFID division and developed a certification program that has been completed by 17 converters, including RSI.

To become a "Qualified Converter," the companies worked with Avery Dennison's technical staff to conduct comprehensive evaluations of both Avery's inlays and the converters' manufacturing and testing capabilities to ensure high quality, high-yield RFID labels for end-users.

"In the beginning, it was frustrating because we didn't see things going as fast as we needed…but we understood that Avery had a plan and what they needed to do," explains Bielas. "Now that Avery has products and we understand what their market strategy is, it's much easier to work closely with them. It's a very good program, and we think they are good [about what] they are trying to fulfill in the market."

As RSI settles into its position as an experienced RFID label provider, the company has seen overall yields increase significantly in the past 18 months.

With the noted improvements within the RFID industry, Bielas comments that there has been a surge in converters entering into the RFID arena.

"In the last year, a lot of new converters came into the market…RFID as a business is going to be a very stable, very big business. [However] it's not going to be a get-rich-quick business at all. People will need to be there for a long time. It will depend on the size of the investment, and you're always going to have to keep investing."

RSI's sizeable investment in RFID, especially in terms of its early commitment to perfecting testing techniques and equipment, has begun to pay off.

Bielas says, "We don't have inventory sitting, getting obsolete. We bill to order, and we keep ourselves busy. We see our return. It's not the return you would like to see, but we know the return will be there, because this is an emerging technology."
---
CONVERTER INFO:
MPI Label Systems
450 Courtney Rd.
Sebring, OH 44572
800/837/2134; mpilabels.com

RSI ID Technologies
901 Chula Vista, CA 91914
800/466-8247; rsiid.com

3 Sigma Corp.
1985 West Stanfield Rd.
Troy, OH 45373
973/440-3400; 3sigma.cc

SUPPLIER INFO:
Melzer—melzergmbh.com
Alien Technology—alientechnology.com
Avery Dennison—averydennison.com
Mikoh Corp.—mikoh.com
Parlex Corp.—parlex.com
---
---