April 29, 2013
ST. GALLEN, SWITZERLAND | With the purchase of a Gallus EM 510, Brussels-based Turbel NV is increasing the chances of growing success in its served markets. The company, founded in 1955, currently has 49 employees and is widely known as an exclusive distributor of labeling applications on one hand and as a manufacturer of all kinds of labels on the other. This is already the third Gallus press Turbel includes into their machinery.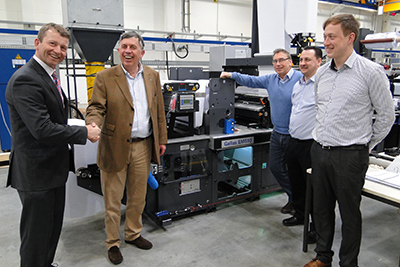 Installation of the new Gallus EM 510 at Turbel NV. From left: Wim Brunsting, sales manager Gallus Benelux; with Turbel's Roland Cuvelier, general manager; Michel Hawryszkow, technician; Jean-Luc Bastin, technical support; and Karel Siau, production manager.
The machine, equipped with two flexo printing units, is mainly used for production of A4 sheet labels and logistics labels. Since the Gallus EM 510 meets the requirements for the production of high volumes of A4 sheet labels ideally, CEO Roland Cuvelier and his management of Turbel NV decided for another investment into a professional production solution and therefore deepened the previous successful partnership with Gallus. The installation got successfully conducted in April.