Published: January 08, 2013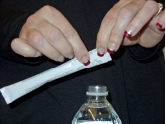 LEWIS CENTER, OH | Multi-Plastics Inc. introduces EZTear, a laminated pouch structure for use in easy open stick packs or similar flexible packaging applications. This laminated structure addresses the mechanical aspects regarding tear initiation and control of tear across the pouch in a more economical option compared to currently used products. EZTear provides an easy-open pouch without using expensive laser scoring to assist with tear initiation or propagation.
EZTear offers easy tear initiation, excellent printability, good stiffness, high burst strength, and puncture resistance. This product is ideal for end-use markets including powder dry goods (very fine to granular), wet goods or liquids, medical, nutraceutical, or cosmetics. Additionally, this structure includes DiversaSeal sealant technology, which enables the customer to use one structure across multiple applications.
"This patent-pending technology will revolutionize the easy-tear market. End-users will no longer have to struggle to open convenient single-serve, on-the-go products," says David Parsio, product manager and inventor.
This email address is being protected from spambots. You need JavaScript enabled to view it.