Published: September 16, 2016
MONTGOMERY, PA | Foster, a supplier of cutting devices and other postpress equipment, announces the new On-a-Roll Lifter Jumbo said to allow printer operators to quickly and effortlessly lift media as heavy as 990 lbs (450 kg), with diameters as great as 19.6 in. (50 cm), and widths as great as 16 ft, 5 in. (5 m).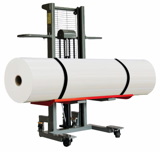 Foster CEO Ted Borowsky says, "Media rolls, particularly those carrying fabric and film, are getting bigger and heavier as mills and printers look to minimize shipping costs and inventory. These larger rolls can be dangerous for operators and warehouse personnel to handle. Our new On-a-Roll Lifter Jumbo enables a single wide-format press operator to safely manipulate media rolls in shops with limited floor space and to single-handedly position fresh rolls for quick and easy mounting in the printer."
This email address is being protected from spambots. You need JavaScript enabled to view it.