Published: June 08, 2016
DUISBURG, GERMANY | FUTEC, a pioneer of 100% automatic flaw detection systems for print and surface inspection for commercial, packaging, and label markets, and Maxcess, a global supplier of products and services for the web handling industry, report a strategic sales cooperation that will allow both companies to cross-promote each other's product portfolio to customers in Germany, Austria, and Poland.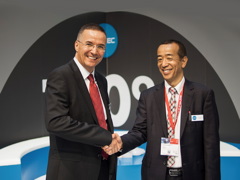 Through this collaboration, the two companies will be able to provide a wider range of solutions to customers, reportedly meeting their growing requests for a one-stop-shop for all their web handling needs. The agreement will empower both FUTEC and Maxcess to better support customers throughout the initial consultation periods and advise them on how to make their web production more effective and competitive. The companies say customers will benefit from a more comprehensive product offering, closer sales support, and the combined application knowledge and experience of the companies. This cooperation covers Germany, Austria, and Poland with a view to extend it to more regions in the future.
Silvio Neumann, one of FUTEC's European Sales Managers, says, "We're excited to be bringing this new service offering to our customer and prospect base in Germany, Austria and Poland. This partnership harnesses FUTEC's in-depth knowledge and outstanding product innovation in 100% web inspection systems and the best of Maxcess' varied and well-established portfolio for guiding, slitting, winding and tension control products. We believe that both FUTEC and Maxcess can greatly benefit from each other's strengths and market expertise, which in turn will benefit our customers."
Visitors to FUTEC's drupa stand have already seen evidence of the new collaboration. FUTEC's new plug-and-play Smart Cameras for the 100% inspection of web printing applications and for the inspection and quality control of plain surfaces have been demonstrated in conjunction with web guiding systems from Maxcess.
Frank Windel, European sales manager at Maxcess, says, "Our strategy of offering a one-stop-shop approach for all our customers' web handling application finds a natural evolution in this cooperation. Combining our Fife Guiding Systems, Magpowr Tension Control, Tidland winding and slitting solutions, and Webex precision rollers with FUTEC's innovative 100% automatic flaw detection systems for print and surface inspection [results in] a 'natural fit' …to optimize web processing applications."
This email address is being protected from spambots. You need JavaScript enabled to view it.
This email address is being protected from spambots. You need JavaScript enabled to view it.