Published: August 02, 2004, By pffc-online.com
PRESS RELEASE
WATERTOWN, WI, USA—NorthStar Print Group reports it has signed an extension of its existing contract with Miller Brewing Co. According to the label printer, it operates under the conditions of the contract as sole label supplier to the beer-making company; the newly signed contract also extends the relationship to incorporate all bottle labels, including pressure-sensitive label products, states a press release about the agreement.
In addition, the company says it will expand its graphic services support to Miller Brewing and serve as exclusive supplier of rotogravure printing cylinders for labels.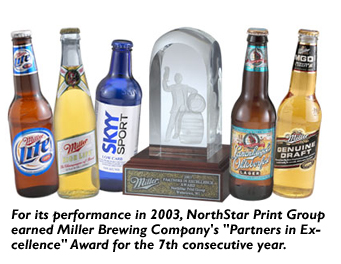 Says Todd Jones, Miller Brewing's purchasing manager, "NorthStar Print Group has provided Miller Brewing Company with the highest quality goods and services continuously. As one of our strategic suppliers, NorthStar helps us find ways to improve the quality of our labels, enhance the productivity of our breweries, and control our costs. We are pleased with the excellent progress we've made in each of these areas during the first three years of our contract, and we look forward to achieving even greater success in the future."
Headquartered in Watertown, Wisconsin, USA, NorthStar operates production facilities in Wisconsin and Michigan's Upper Peninsula. Learn more about NorthStar Print Group at nspg.com.
---