Published: October 01, 2010, By By Edward Boyle, Contributing Editor
Measuring 114 in., K&L Services' Webco slitter is among the widest in the converting industry. Yet, the 38-year-old Wisconsin-based custom slitting operation also can slit to widths as narrow as ½ in. Notes Mike Kamps, president of K&L Services, "Not a lot of companies can slit below two inches. That's another thing that sets us apart from a lot of people in the industry."
"Versatility is a big part of our success," adds Scott Soldner, VP of manufacturing. "And the fact that we are so versatile means that we can be a one-stop shop for our customers that serve both industrial and fine paper markets. They can have their industrial needs — whether it be small diameter or narrow widths or wide-format rolls — met here."
Kamps, the second-generation owner of K&L Services, says the company operates a total of six slitter/rewinders, the largest of which is the five-year old machine from Webco Engineering. Its most recent acquisition was a used 72-in. slitter/rewinder from Jennerjahn Machine that was purchased in late 2007 and retrofitted at the Jennerjahn facility in Indiana.
The extensive upgrade included the software and rewind and unwind sections. The Jennerjahn slitter replaced an older 54-in. machine.
"With the Jennerjahn machine, we can offer our customer base wide-format rolls or wide rolls with small diameters," says Kamps. "Running them on the Jennerjahn gives us a very efficient edge over our competitors. Consequently, we can be very cost-competitive, and we have a long history of excellent service and quality to our customer base."
Getting Certified
K&L Services Inc. was founded in 1972 by Mike's father, Bill Kamps, and his partner, Joe Lawlor. K&L's first customer was a battery manufacturer that required slitting rolls of 15-pt chipboard into narrow ribbons for various sizes of consumer batteries. Their Beaver Dam, WI, manufacturing facility has since been expanded three times to 50,000 sq ft.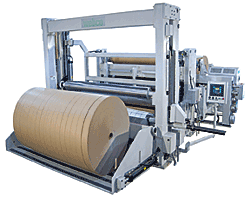 Among its service capabilities, K&L can supply nine core sizes with a variety of roll diameters. Substrates range from light tissue to heavy paperboard and nonwovens. Its equipment can handle multiple substrates but is specially suited for paper mill rolls up to 12,000 lb with a range from 30# newsprint to 0.040-pt board. Its high-precision slitters can operate at speeds to 5,000 fpm. The company has more than two dozen employees and operates two eight-hour shifts.
Kamps says the company also runs what it calls "grand format" rolls on its Webco that typically are 96-108 in. wide with diameters as small as 11 in. for fine-paper distributors. "A lot of our equipment purchases have been a direct result of seeing markets emerge or having customers work with us to identify their long-term market needs."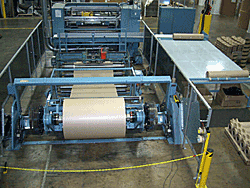 K&L also recently decided to expand its market presence into pharmaceuticals and food packaging papers. Toward that end, the company has embarked on a campaign to become AIB (American Inst. of Baking) approved, a process that involves a review of a company's facilities, procedures, policies, cleanliness levels, and other quality-related issues. Kamps says he expects certification by the fourth quarter of 2010.
"A lot of companies say they can do food service papers but very few say they are AIB-approved," notes Kamps, "because that requires the annual audit and keeping up to date with audit procedures. So, we join a few select companies that have embarked on that journey as part of their continual process update. We've done it, quite honestly, because a couple of our customers asked us to upgrade to those levels, and we just feel that would be a great tool we could use to sell to other customers down the road."
China Connection
K&L Services does no sheeting, but it has partnered with a sheeting company in Wisconsin on occasion to meet customers' needs. And while it has a largely national customer base, earlier this spring, the company shipped a 40-ft container full of specialty kraft paper to the partner of one of its customers in China.
"It was a high quality grade of paper that is not readily available from a lot of manufacturers," explains Mike Kamps, president. "And we have a customer here in the US that has a manufacturing partner in China that needed a special roll size. So our customer asked us to buy the mill rolls, cut them down to the size their customer in China needed, and ship them all in one order."
Converter Info
Supplier Info
Contributing editor Edward Boyle, based in Reading, PA, has covered the converting industry for more than 24 years. Contact him at EJB Communications; 610-670-4680; This email address is being protected from spambots. You need JavaScript enabled to view it..