Published: March 06, 2012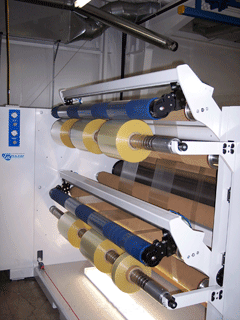 COLUMBUS, OH | AccuFilm, a custom contract slitting company, recently installed two new ASHE Converting Equipment Sapphire S2 slitter/rewinders and an Emerald doctor machine rewinder. Both Sapphires are equipped with cam lock differential tooling, touchscreen PC/PLC control, and integrated shaftless unwind stands.
One Sapphire has 65-in. width capabilities while the other is an 80-in. wide machine. Both have 45-in. diameter unwind and 24-in. rewind capabilities. Speeds up to 2,600 fpm are achievable.
The Emerald doctor machine rewinder is a meter-wide unit capable of 1,500 fpm reversible operation producing diameters up to 24 in. This unit also contains an integrated splicing station for doctoring printed substrates.
A range of services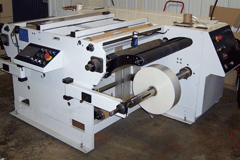 In business since 1992, AccuFilm custom slits films of various compositions and thicknesses, from 8 micron to 20 mils, with concentration on thin gauge, rigid films in the 50-gauge to 4.00-mil range.
From its facility in Hebron, OH, AccuFilm provides service to the entire US and exports to Europe, South America, Mexico, and several countries in the Pacific region. The company reports its utilization of state-of-the-art equipment helps yield scrap rates as low as 1% or less.