Published: April 24, 2012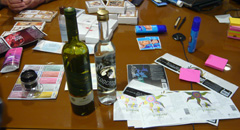 PALO ALTO, CA | HP today announced the winners of the HP Print Excellence Awards, a competition to recognize the best examples of creativity and print quality produced across HP's digital portfolio.
The competition recognizes print excellence in 21 categories across Labels and Packaging, Sign and Display, and Commercial Print applications. Submissions were open to users of HP Indigo, Inkjet Web Press, Scitex, and Designjet systems. The competition attracted entries from 364 customers from 47 countries.
Judging was conducted by an international team of experts: Yolanda Simonsis, editorial director, PFFC, USA; Jean Poncet, editor in chief, Etiq & Pack, France; Eric Pierre, creative director, BBDO Paris, France; Stan Kilpin, publisher, Cygnet Publications Pty. Ltd., Australia; Boaz Rossano, CEO, Video Dubber, Israel; David L. Zwang, president, Zwang & Co., USA; Stephen Sonnenfeld, VP advertising & brand integration, Thomson Reuters, USA; Nir Navot, art director, Amdocs Israel; and Sophie Matthews-Paul, independent consultant, UK.
Favorable Judgments
"It was my honor to participate as a judge," said Yolanda Simonsis. "I believe the 'tipping point' for digital in the label and packaging industries will arrive sooner than others anticipated. Digital easily executes complex designs with perfectly registered type so fine you need a loupe to read it, vignettes so subtle and skin tones so lifelike that it now certainly surpasses analogue technologies that struggle to replicate effectively without waste."
"The HP Print Excellent Awards concentrate on innovation," said judge Sophie Matthews-Paul. "However, they also look at environmentally responsible printing. We considered how entrants demonstrated creativity and skill. Seeing how the criteria were interpreted in the submissions from different parts of the world was very interesting." Awards were categorized by device category and by application type. The judges said that after lengthy discussions, the decisions on all winners were unanimous.
"It was exciting to see the way print service providers and their customers were able to push the envelope with the HP print technologies, especially the Indigo," said judge David Zwang. "Offset print has always been the benchmark that people use to set their expectation for quality print. There is no doubt in my mind that the Indigo print entries we saw not only met that level, but exceeded it."
"The response to this competition exceeded our expectations. The quality of the submissions reflected how creative agencies and enterprises benefit from a wide range of applications that PSPs are producing on HP digital presses and printers," said François Martin, worldwide marketing director, Graphic Solutions Business, HP. "Receiving submissions from nearly 50 countries demonstrates the spread of digital printing around the world as well as confidence in our technologies and innovations."
HP will present the awards to winners at a celebratory evening in their honor in Düsseldorf on May 3. First place winners are listed below.
Label and Packaging First Place Winners
| | | | | |
| --- | --- | --- | --- | --- |
| Category | Winner | Country | End Customer | Press/Printer |
| Wine & Spirits Labels | Graficas Varias | Spain | Miguel Torres | HP Indigo |
| Food Labels | Label Apeel | UK | Long Clawson Dairies | HP Indigo |
| Health & Beauty Labels | Digital Labels Ltd. | Israel | LA-labels apps | HP Indigo |
| Pharma & Neutraceutical | Coreti | Spain | Escritorio Digital | HP Indigo |
| Industrial Labels | Springfield Solutions | UK | John Myland | HP Indigo |
| Shrink Sleeves | CMC Group | USA | SJ Creations | HP Indigo |
| Flexible Packaging | Essel Propact | India | | HP Indigo |
| Folding Cartons | Promographic & Design | Mexico | Nattura Labs | HP Indigo |
| Specialty | Boyallgraphics & Print | UK | Corporate Hard Hats | HP Indigo |
Sign and Display First Place Winners
| | | | | |
| --- | --- | --- | --- | --- |
| Category | Winner | Country | End-Customer | Press/Printer |
| Outdoor Advertising | CLM BBDO | France | Mercedes-Benz France | HP Scitex |
| Retail POP/POS | Next Printing | Australia | Next Printing | HP Scitex |
| Innovative Application | Dpod Ltd. | New Zealand | Pea Pods (MacKay Distribution Ltd.) | HP Scitex |
| Vehicle Graphics | Union Inks and Graphics Philippines | Philippines | Brushstroke Creatives | HP Scitex |
| Exhibitions & Events | JMD Digital Art Xchange | India | | HP Scitex |
| Environmental Responsibility | Golden Touch Color Lab & Photo Supply | Philippines | Coca-Cola | HP Scitex |
Commercial Print First Place Winners
| | | | | |
| --- | --- | --- | --- | --- |
| Category | Winner | Country | End-customer | Press/Printer |
| Direct Mail & Transpromo | Straub + Medien | Germany | Straub + Medien | HP Indigo |
| Photobooks-Wedding | Kisah Publishing | Indonesia | n/a | HP Indigo |
| Photobooks-General | Vovremja! | Russia | Vovremja! | HP Indigo |
| High Volume Inkjet Printing | One to One Digital Solutions | USA | New Era Inc. | HP Inkjet Web Press |
| General Commercial | Kubilay Offset Ltd. | Turkey | Our Own Product | HP Indigo |
| Publishing | Dygy GmbH | Germany | Novum-World of Graphic Design | HP Indigo |