Published: July 10, 2023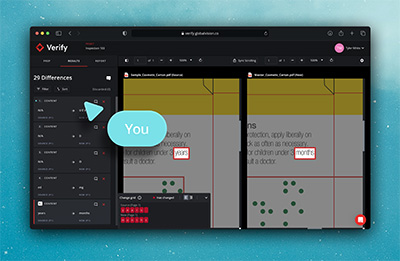 GlobalVision, the leader in document quality control software for regulated industries, has unveiled Text Inspection 2, a new algorithm that revolutionizes text inspections and content comparisons. This update from their cloud-based proofreading platform, Verify, sets a new industry standard for speed.
End-to-End Document Inspections Up To 30 Times Faster
The key to this remarkable speed improvement is a redesigned algorithm developed by GlobalVision. By leveraging cutting-edge technologies and rebuilding the inspection algorithm from scratch, they have achieved lightning-fast processing times. Text Inspection 2 is now on average 10 times faster than its predecessor, with the potential to be up to 30 times faster. This breakthrough sets a new market standard for inspection speed. Additionally, GlobalVision's core technology incorporates a new framework that allows for continuous development and improvement, ensuring that Verify's inspection algorithm will only get faster and more accurate over time.
Michael Malz, Chief Product Officer at GlobalVision, described Text Inspection 2 as a complete overhaul of their core proofreading technology. The new algorithm has been in development for several years and is backed by a scalable web infrastructure based on AWS, delivering powerful inspection capabilities. GlobalVision is excited to bring this innovative technology to its customers.
A New Standard Set for Regulatory Proofreading Speed
Verify, launched in 2021, has gained significant popularity among pharmaceutical and life sciences companies. It enables the automatic detection of deviations at every revision point, accelerating the asset development process. Verify also seamlessly integrates with leading Content Management Systems like Veeva Systems, streamlining regulatory teams' quality workflow.
Until now, there has been a lack of reliable cloud-based solutions for fast end-to-end inspections, particularly in the pharmaceutical industry. Manual proofreading processes are time-consuming, taking an average of eight hours per document review. GlobalVision's industry-leading inspection algorithm in Verify empowers teams to proofread and review critical documentation for product labels and packaging faster than ever before.
Customers, such as Veronica Guilliams, Senior Manager - Visual Inspection at Pfizer, have praised GlobalVision for providing an advanced and sophisticated integrated system that facilitates fast analysis.
To learn more about GlobalVision's Text Inspection 2, visit GlobalVision or contact GlobalVision directly.