Published: May 09, 2017
PHILADELPHIA, PA | Pruftechnik offers the new OPTALIGN smart RS5 BT, providing alignment of horizontal, vertical, and flange-mounted machines and coupled and uncoupled shafts.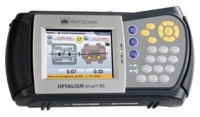 Features a sensor with XL HD detectors and MEMS inclinometer. Hundreds of positions are automatically measured during shaft rotation. Allows live monitoring of horizontal and vertical corrections at any angular sensor position on the shaft.
Also features flip machines functionality; saves measurement reports as PDF onto a USB stick; and has Bluetooth communication integrated in handheld unit and RS5 sensor.
This email address is being protected from spambots. You need JavaScript enabled to view it.