Published: May 02, 2016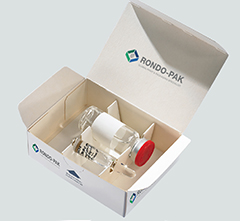 CAMDEN, NJ | Rondo-Pak has introduced a new Quick-to-Market carton assembly and branded sampling service to meet a variety of short-term needs identified by customers. The cartons are produced at one of Rondo-Pak's manufacturing facilities using equipment from premium machinery specialists.
Fully assembled market-ready-to-pack cartons and branded samples now can be quickly assembled and delivered to customers for low-, medium-, and high-volume jobs. High-volume jobs are sometimes necessitated when, for instance, a customer is awaiting delivery on a suitable cartoning line, or its existing equipment is unavailable or down for maintenance. In such an instance, Rondo-Pak's Quick-to-Market service offers an expedient production bridge to market-ready cartons.
For small-run jobs, hand assembly or semi-automated packaging techniques can be utilized. Applicable situations might include a customer's need for cartons for human factor studies, clinical trials, or sampling and prototyping.
Advantages of the Quick-to-Market service include reduced labor costs, as no hand folding is required when cartons arrive; the ability to deliver custom-designed product, printed or unprinted, in both small and large quantities; short delivery time; and cGMP production.
"Our Quick-to-Market carton assembly services are a reassuring security blanket for customers who find themselves challenged to fulfill a sudden need or unforeseen opportunity," said Victor Dixon, president. "Rondo-Pak's experienced packaging engineers can quickly produce a customized solution, exemplifying our commitment to solving packaging problems creatively and cost-effectively."