Published: January 04, 2012
The packaging M&A landscape was dominated by strategic buyers.
Several significant themes characterized the 2011 mergers and acquisitions (M&A) marketplace. The most prominent was the return of strategic buyers across most industry sectors including the packaging sector. Table I outlines the largest transactions of 2011. As is evident, the largest deals reflected consolidation and acquisition-driven growth initiatives in major industries such as telecommunications, energy, healthcare, and transportation.
Table I. Largest M&A Transactions in 2011
Acquirer
Company
Transaction Size
Kinder Morgan
El Paso Corp.
$37.6 billion
Express Scripts Inc.
Medco Health Solutions Inc.
$34.3 billion
Duke Energy Corp.
Progress Energy Inc.
$25.5 billion
Comcast Corp.
NBC Universal Media LLC
$22.9 billion
Sanofi
Genzyme Corp.
$19.6 billion
Volkswagen
MAN SE
$18.0 billion
Another theme in overall M&A activity in 2011 was the lack of large leveraged buyout transactions. Private equity groups found it difficult to raise the large amounts of debt capital required to finance multi-billion dollar buyouts. Due to these tight credit markets for large transactions, many private equity groups turned their attention to middle-market transactions.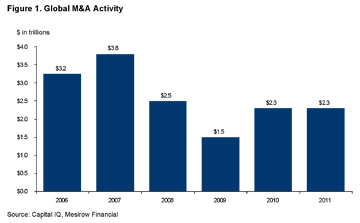 In 2011, strategic buyers were able to utilize their own financial strength and balance sheets to make acquisitions. In addition, corporate profits and cash flows reached record levels during the year, which helped finance transactions. Figure 1 details global M&A activity in 2011. While activity has not returned to pre-recession levels, the figures from 2006 and 2007 were materially influenced by large bank mergers and heightened private equity activity.
The packaging M&A landscape in 2011 also was dominated by strategic buyers. As outlined in Table II, the largest packaging deals were strategic transactions. Corporate buyers looked to achieve growth, expand market share, extend geographic reach, add to their product capabilities, consolidate markets (especially in the slower growing categories) and achieve synergies. In an economy in which organic growth was difficult to achieve, M&A was effectively utilized to achieve financial goals.
Table II. Largest Packaging Transactions in 2011
Acquirer
Company
Transaction Size
Reynolds
Graham Packaging Co.
$4.6 billion
Rock-Tenn
Smurfit-Stone
$4.4 billion
International Paper
Temple-Inland
$4.3 billion
Svenska Cellulosa Aktiebolaget
Georgia-Pacific LLC, European Tissue Operations
$1.8 billion
Sonoco
Tegrant
$0.6 billion
Berry Plastics
Rexam
$0.4 billion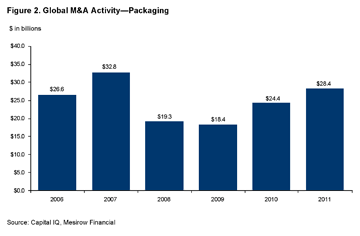 The packaging industry continued to exhibit an increase in M&A volumes in 2011. Figure 2 illustrates that global packaging M&A activity has rebounded to pre-recession levels—not surprising given the number of landscape-altering transactions seen in 2011: International Paper/Temple-Inland; RockTenn/Smurfit Stone; Reynolds/Graham Packaging. The corrugated industry has been especially affected by these mega-combinations.
Private equity participants also were active in the packaging industry in 2011. However, they focused primarily on the middle market. For example, Apollo-backed Berry Plastics purchased both Rexam Closures and Linpac Specialty Films. Atlas Holdings-backed AGI World announced a combination with Shorewood Packaging—creating a specialty packaging business with $1 billion in revenue.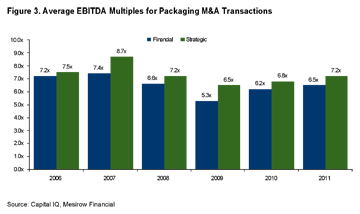 As seen in Figure 3, private market valuations for packaging companies also increased in 2011. Valuation multiples for packaging businesses are essentially at their highest levels since 2007. The increase in multiples has been driven by strategic buyers and the synergies that can be achieved. Corporate acquirers recognize the value inherent in well-structured, well-executed transactions, and the prices paid reflect that opportunity set.
Outlook for 2012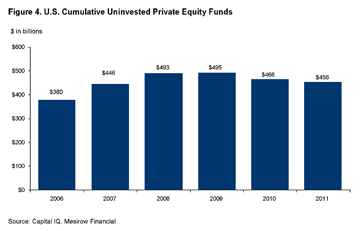 The outlook for packaging M&A activity in 2012 remains healthy. Figure 4 outlines the high levels of uninvested private equity capita available in the marketplace. Since large buyouts are difficult to finance in the current environment, we expect continued middle-market private equity in packaging in 2012. The packaging industry consistently demonstrates economic resiliency across most substrates and sectors, and this is appealing to many private equity acquirers.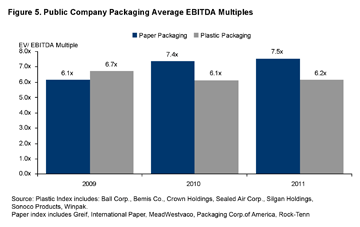 In addition, valuation levels remain high for publicly held packaging companies. Figure 5 demonstrates that while average valuation multiples for public packaging businesses remained flat in 2011, they are at levels that support continued M&A activity. Given the ample supply of private equity funds available, and the current aggressive position of strategic buyers looking to generate growth and synergies, Mesirow Financial expects another strong year for packaging M&A in 2012.
Bill Hornell is a managing director in the Investment Banking Group at Mesirow Financial, Chicago, IL. He has completed more than 80 packaging merger and acquisition transactions. A significant majority of these transactions involved consumer packaging businesses. Contact him at 312-595-6176 or at This email address is being protected from spambots. You need JavaScript enabled to view it.; www.mesirowfinancial.com
Managing director John Chrysikopoulos joined Mesirow Financial in 2009. He has 15 years of investment banking experience, nine years of equity research experience, and has participated in numerous high profile paper and packaging transactions. Located in New York, he can be reached at 212-351-8181 or at This email address is being protected from spambots. You need JavaScript enabled to view it..