Published: May 07, 2013, By Nsenga Byrd Thompson
NY-based foam label converter takes technology customarily used for microwavable packaging and finds a "cooler" application in the cold beverage market.
Founded in 1980 by process engineer George Braddon, Commodore Plastics, Bloomfield, NY, began operations with just a 4 ½ x 6-in. extruder and used equipment. With Braddon's ingenuity and engineering experience, the business grew into a successful manufacturer of foam trays for meat processors and grocery stores, and through its equipment business, Commodore Technology, a leader in the design and manufacture of machinery and tooling for producing expanded polystyrene (EPS) foam products.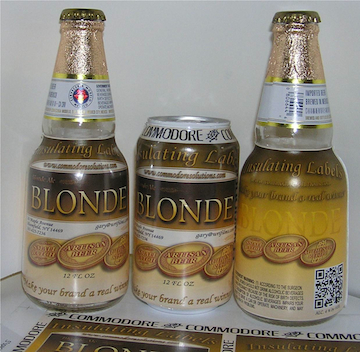 Now led by son Brad Braddon, the company has continued to thrive over its 30-year history and has expanded its capabilities—taking its extensive knowledge of foam materials into the label market. The company took the leap into foam label stock five years ago after being approached by industry consultant Gary Duncan.
"The reason for the inquiry was that I knew they were in the foam business and there were no non-captive sources of foam label stock in the industry," recalls Duncan. "My idea was to provide a stock that could be provided over a broad industry base for label converters of non-captive sources."
Duncan and Braddon would collaborate over the next three years to develop Labec coextruded film/foam label stock. Designed with label printers in mind, Labec products are produced using a unique technology, incorporating coextrusion of one layer of non-foamed film and a second layer of polystyrene foam. This unique two-layer material offers the desired insulation and aesthetic qualities that makes the Labec technology the perfect solution for hot food applications, such as microwavable packaging. But it's what Commodore has been able to do with cold beverage packaging that demonstrates the true innovation of the Labec technology.
"We took an old technology and updated it for new applications," say Duncan. "The idea initially was to not to go after the existing applications that had been developed. What we tried to do is re-energize a lot of these beverage applications."
Although Duncan was confident they could reinvent material for cold beverage applications, he knew Commodore would have to be prepared for months of trial and error. "The biggest challenge in developing the Labec product was that the material didn't shrink uniformly at lower temperatures. It was a difficult problem to solve."
Commodore proved to be up to the challenge. Through extensive R&D work, the material was re-engineered to offer the shrinkability required at various temperatures to make the technology viable for cold beverage applications.
Keeping It Cool
The Labec technology creates shrink-label stock that insulates aluminum, glass, and PET beverage containers, keeping liquids colder up to 15-20 minutes longer than plain cans, based on a beverage temperature gain without the label of 20–30 deg F over the course of the hour.
The thickness of the product used for various applications usually is determined by the requirements of the applications.
"Foam label technology for an insulated label is a denser material than the foam stock that is typically used in thermofoam trays," explains Duncan. "It is basically a paper-like material. Although it is much lighter than paper, it is classified as a denser foam."
For moderate insulation requirements, such as to keep the surface of a heated product cool to the touch after removal from a microwave oven, usually the 5 or 6.5 mil product is used. For cool beverage products, such as soft drinks or beer, usually the 8 or 10 mil product is used to keep the product cooler longer or to provide texture or embossability.
"It has a lot of advantages," says Duncan. And it's an insulator, it keeps the beer colder longer. It reduces—and some times prevents—condensation on the surface, so it's easier to hold on to."
Additional Benefits
Beverage cans and bottles are considered ideal applications for Labec foam labels. The capabilities of cans are said to be enhanced due to the insulation capabilities of the Labec label foam, whereas bottles tend to benefit from the 3D effects possible with foam and also from its safety features.
Due to a density of only about 0.30 g/cm3, the Labec foam label is said to be the lowest density label material available and easily separable for container recycling, offering a key sustainability advantage for a product that is often misconceived as being environmentally unsafe.
Labec foam labels can be printed using all conventional methods, including flexo, (both water-based inks and UV curable), web offset, rotogravure, and digital printing. The foam label stock also can be hot-stamped, metallized, and embossed for a premium look.
This email address is being protected from spambots. You need JavaScript enabled to view it.