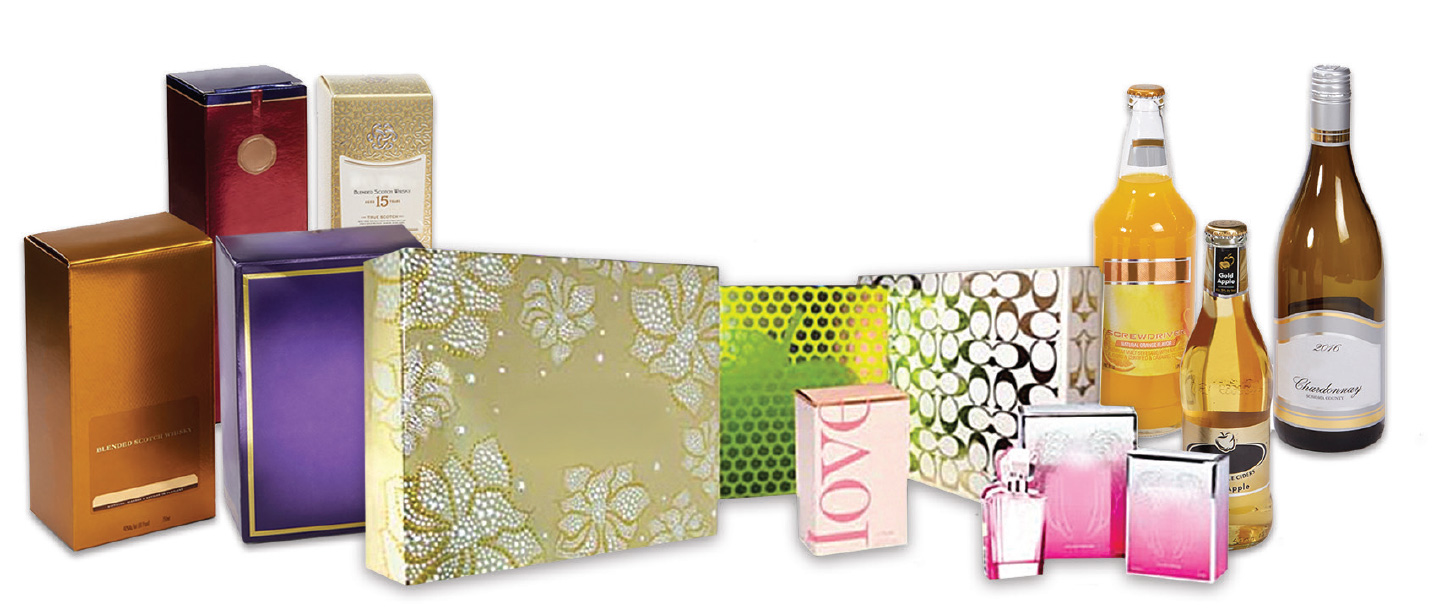 Packaging has two primary purposes: to contain and protect the product, and to catch a consumer's eye on the shelf. But when manufacturers add special effects such as foil and film laminates to their product packaging, they can inherently add perceived value for the consumer. The goal is to convince the consumer - who is choosing between several brands - to see the final product as a "premium" option.
Visual Appeal
The importance of visual appeal in the design of product packaging has been well documented. In fact, premium packaging, when it is executed and positioned correctly can even enable brand owners to command a higher price point. With the higher perceived value that comes with enhanced packaging effects, a brand can also realize an increase in incremental sales.
As packaging is often the first point of contact for consumers who are browsing retail stores, the way that a package looks on the shelf plays a vital role in creating a good initial impression. One way to achieve this positive brand experience is by incorporating an array of dazzling effects with foil and film laminates.
High-Impact Solutions
After acquiring the assets of Hampden Papers in October, LLFlex is perfectly positioned to provide these high-impact solutions. Hampden Papers' laminating, sheeting, coating and embossing capabilities - combined with LLFlex's deep packaging expertise - provides customers across the nation with an expanded portfolio of paper and paperboard packaging material solutions to enhance shelf appeal.
The acquisition has given LLFlex an even broader portfolio of solutions to help differentiate product packaging. By utilizing customized films including holographic, rainbow, lens, transfer metallization and embossing, the company can offer a wide range of possibilities for designers, convertors and brand managers seeking increased market share through specialized packaging effects.
The LLFlex Hampden Paper Legacy Line offers brands multiple ways to "outshine the competition" from every day and luxury solutions to eco-friendly laminate options. With decades of consumer packaging experience, the LLFlex sales team can guide customers through the entire process, from concept to commercialization. Additionally, the company provides technical engineering support to customers, a crucial component to ensuring proper quality control and efficient product deployment.
Team Expertise
The LLFlex product development team is uniquely qualified to provide the expertise and resources to advise customers on surface finishes, coatings, embellishments, and innovative decorative techniques. The team draws upon years of knowledge and a deep understanding of various printing technologies to ensure printers can achieve maximum performance and superior quality. LLFlex is committed to protecting the environment and supporting customers' sustainability initiatives by offering a full line of sustainable lamination solutions, including transfer-metallization, recycled products, plastic free products, transparent and responsible sourcing initiatives.
With the recent opening of the company's new High Point, N.C. facility, LLFlex now offers increased capacity, expanded manufacturing capabilities and even faster turnaround times.
Learn more about how LLFlex's financial strength, decades of expertise and expanded global footprint, make them the ideal partner to help customers enhance shelf impact and improve market share with innovative, dazzling effects for consumer packaging.
For more information, visit www.LLFlex.com, email This email address is being protected from spambots. You need JavaScript enabled to view it., or call 1-800-634-3645