Published: July 27, 2016
BLYTHEWOOD, SC | Constantia Flexibles has introduced to the U.S. market its award-winning CONSTANTIA Blister Eco, a pharma packaging lidding foil for low-barrier products that offers significant cost savings compared to standard blister lidding foil. The relatively new product was recently awarded an Alufoil Trophy by the European Aluminum Foil Assn. (EAFA) in its annual competition.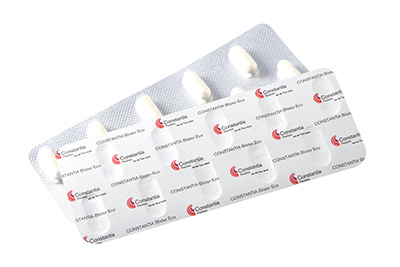 CONSTANTIA Blister Eco consists of tissue paper laminated with a thin aluminum layer, resulting in a material that is 23% lighter than a standard lidding foil. The share of aluminum in the product is 40%—far less than standard foil's approximately 90%—and it also uses renewable raw material paper and less lacquer coating, making it more sustainable. CONSTANTIA Blister Eco also enjoys excellent barrier properties over thermoformed blister bottom film; for example, water vapor barrier properties are greatly enhanced compared with thermoformed blister base webs made from traditional PVC-based materials.
CONSTANTIA Blister Eco offers excellent in-line and off-line printability. Additional highlights are said to include the following:
Suitable for all products that do not require heightened levels of protection
23% lighter than 20 µm blister lidding foil (48 g/m² vs. 62 g/m²)
Significantly lower susceptibility to LME-raw material price fluctuations of aluminum (40% of CONSTANTIA Blister Eco vs. 90% of conventional blister foil)
Identical sealing layer as standard blister lidding foil
MVTR barrier approximately five times better than PVC/PVdC
Sustainable solution with renewable raw material paper and 5 g/m² heat seal lacquer instead of 7 g/m² (compared to standard blister lidding foil)