Published: June 10, 2015
TOPEKA, KS | The Foil & Specialty Effects Association (FSEA) announces the winners of the 22nd Annual FSEA Gold Leaf
Awards Competition. Judged on design, execution, and level of difficulty, the competition draws entries from around the world. This year's submissions represented works from the US, Canada, Australia, Finland, UK, and Taiwan.
From foil stamping and embossing to specialty coating, film laminating, laser cutting, die-cutting, cold foil application, and more, FSEA says the competition celebrates the quality, added value, shelf presence, security, and brand recognition that these finishing processes lend to the printed sheet.
Gold, silver, and bronze winners in 35 different categories were recognized at the Awards Banquet during the IADD*FSEA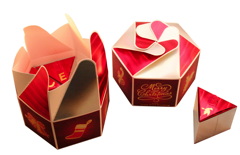 Odyssey, held in May in Schaumburg, IL.
Trade Print Finishing, Salt Lake City, UT, was presented with the Best of Show Award in the category of Self-Promotion – Best Use of Foil/Embossing for its Merry Christmas box. The hexagon-shaped carton featured four separate passes of foil on the outside box. The six inside boxes required three passes of foil and a die-cut to create a tab to easily hang the boxes as an ornament.