Published: March 01, 2010, By Edited by Claudia Hine, Managing Editor
Brazilian packaging printer Brasilgrafica offers a model of how a comprehensive quality policy can be implemented in a printing company. Managing director Nilo Cottini Filho explains his philosophy: "A rigorous quality focus leads to in-depth knowledge of the process chain, which is essential to good customer consultation. This is how we find optimum solutions for our customers."
The converter's production process complies with quality management standards, which are inspected and improved by internal audits. Investments in new technology that meet internationally recognized quality standards recently have been made for the pressroom, including the acquisition of a new large format press.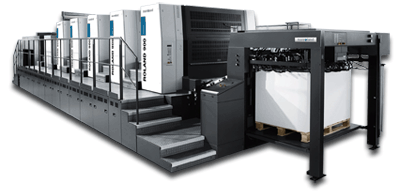 This latest addition is a six-color ROLAND 900 in Format 6 from manroland. The press offers a maximum output of 14,000 sheets/hr. Maximum printing area is 990 mm × 1,400 mm (39 in. × 55.1 in.).
The large format press includes a board printing option. It will be used on long packaging runs for food, hygiene, and cleaning products for such well-known customers as Kraft Foods, McDonald's, Melitta, Nestlé, Procter & Gamble, Bauducco, and Unilever. Brasilgrafica worked with manroland do Brasil, which handles sales and service in Brazil for the Germany-based supplier.
Quality Policy Pays for Itself
Brasilgrafica's quality measures cover not only the production process, but the environment and company management as well. Personnel development is extremely important. The printing company hires qualified, motivated employees and works to support their professional development.
Sustainability is a key issue. Printed, FSC-certified board from Brasilgrafica is recyclable and biodegradable. The inks are environmentally friendly, and the varnishes are water-based. Adds Filho, "With just-in-time delivery, we are able to fill requests quickly while keeping costs low. These conditions are the primary prerequisites for our company's success."
Supplier Info
Converter Info
Brasilgrafica S.A. | Alameda Tocantins 490, Alphaville/Barueri-São Paulo, Brazil | +55 06455-920 | www.brasilgrafica.com.br