Published: February 11, 2013
YAVNE, ISRAEL | Highcon is pleased to announce that Antilope Group of Belgium has purchased a Highcon Euclid digital cutting and creasing machine. Antilope, which expanded into the folding carton market only seven years ago, saw the Euclid at the Open House held at Plantin in Brussels in early December. Plantin-Tetterode is the official Highcon dealer for the Benelux market. The Euclid has been installed at their new demo room, which serves as the Highcon European demonstration center.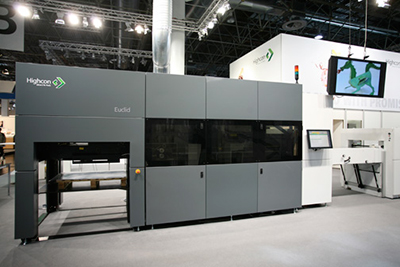 The installation, scheduled for March, will make Antilope one of the first companies in Europe to adopt Highcon's vision of Direct-to-Pack production. This email address is being protected from spambots. You need JavaScript enabled to view it., CEO of Antilope, says, "The Highcon Euclid fits perfectly into our goal of providing innovative and added value solutions to our customers. The growth of short runs in the packaging market, combined with the creativity and flexibility offered by the Euclid, will allow us to meet our customer demands easily, efficiently, and profitably. With Plantin-Tetterode, our needs for fast service and support in the adoption of this new technology into Antilope will be guaranteed.
Nigel Tracey, sales director at Highcon, says, "We are delighted that a successful, innovative company like Antilope has decided to purchase the Euclid. Antilope has a well-earned reputation for leading the industry in the implementation of digital technologies as a way to provide superior customer satisfaction. We believe that the Highcon Euclid will transform Antilope's packaging operation in the same way they have applied digital technologies to their commercial printing activities."
Antilope—a family business that last year celebrated 50 years—views the addition of the Euclid as a central element in the development of their packaging and printing strategy. The packaging division, run by This email address is being protected from spambots. You need JavaScript enabled to view it.—formerly Antilope's financial director—is one of the group's key growth engines.
This email address is being protected from spambots. You need JavaScript enabled to view it.