Published: August 12, 2016
WESTERLY, RI | Maxson Automatic Machinery Company reports its cut to register sheeter allows label converters and folding carton operations sheeting to a registration mark on a variety of preprinted materials, including holographic stock, accuracy at speeds to 1,000 fpm (308 mpm).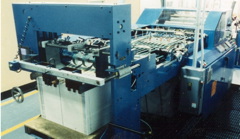 The sheeter, which is available in stationary bed or dual knife cutter design, utilizes a roll stand with line guidance capabilities, a sensitive scanner to detect registration marks, and a high-resolution electronic drive system that hold the cut tolerance to within +0.006 in. (+0.15 mm) of the register mark, regardless of line speed or cutoff. The drive provides an "offset" parameter to position the cut from the mark, manual operator override, programmed rejection of out of tolerance lengths, and automatic sheet squaring.
Sheeter can be outfitted with a "continuous run" feature that avoids stopping the unit when making skid changes. Company says this permits the sheeter to be put in line with a printing press. Sheeter is available in widths to 65 in. (1,651 mm), and the cut to register sheeter has a repeat of between 11 in.–65 in. (280–1,651 mm) long.
This email address is being protected from spambots. You need JavaScript enabled to view it.