Published: October 28, 2013
SPRINGFIELD, MA | A total of 114 entries from 31 Paperboard Packaging Council (PPC) members were honored in a special awards banquet at PPC's Fall Meeting and Leadership Conference on October 24 in Dallas, TX, as part of the 70th annual North American Paperboard Packaging Competition.
Eight packaging experts adjudicated this year's competition, which took place over three days in July at PPC headquarters in Springfield, MA. They included package designers Luis Lee and Dick DePaul, retired packaging executives Rich Garber and Gary Miller, former associate publisher of Package Design magazine John Lyons III, Ardent Displays Director of Project Management Wendy Vowell, Executive Director of the Packaging Education Alliance Jim Peters, and Bill Wynkoop, adjunct professor in packaging at the Rochester Institute of Technology.
"It's so impressive to watch the judges discussing the merits of each entry during judging week," commented Ben Markens, president of PPC. "Their dedication not only makes for an exciting competition, but it also helps move our industry forward by highlighting paperboard as a sustainable and innovative packaging substrate."
Each of the 90 entries in the General category was first evaluated by considering the package's development objectives and the types of materials used. The judges then considered the success of each entry's structural design and how well the printing and converting processes helped achieve the stated objectives. The judges also measured the package's impact on production, manufacturing, distribution, storage, and warehousing; economics (material substitutions, line efficiency, cost reduction); brand enhancement; and marketing. Finally, the package's impact on the retail store shelf was carefully considered.
PAPERBOARD PACKAGE OF THE YEAR
This year, the top Paperboard Package of the Year award was presented to JohnsByrne, Niles, IL, for its Droid Razr Maxx HD Phone Sales Launch Kit. Transforming from a shipping carton to a launch kit—and even into a countertop display at retail—this carton consists of a two-part solid bleached sulfate (SBS) hinged box with a magnetic closure that, when opened, elevates the central phone carrier unit. Soft touch and gloss UV coatings distinguish the outer structure from the inner glossy red phone carrier unit.
FOLDING CARTONS OF THE YEAR
PPC awarded its Folding Carton of Year honors to two companies this year.
All Packaging Co., Aurora, CO, was co-awarded Folding Carton of the Year for the design of Savory Spice Shop 8-Pack Spice Jar Gift Packaging.
Not only does the new "cross-x" design replace hard-to-recycle plastics and heavy corrugate with recyclable CNK stock, but it also reduces assembly time, eliminates several SKUs of packaging, and more than doubles the amount of product viewable on the retail shelf.
Diamond Packaging, Rochester, NY, was co-awarded Folding Carton of the Year for Elizabeth Arden's Limited Edition Sunflowers perfume box.
As fresh as the fruity notes of the perfume are the new carton graphics, embossed sunflower petals on the front and rear panels, and debossed text on the side panels that are perfectly in register.
Its friction lock top and slit lock bottom closure simplifies fulfillment and allows for ease of packing and shipping.
RIGID BOX OF THE YEAR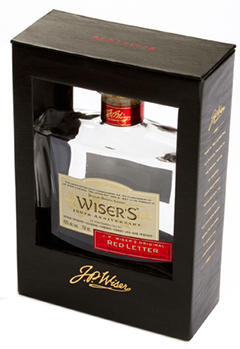 The Rigid Box of the Year award-winner was TPC Printing and Packaging, Chattanooga, TN, for their Wiser's Red Letter Rigid Box for Brown-Forman Corp. A one-time promotion and tribute to the founder of Wiser's Canadian Whisky, this package was designed to display the bottle while providing effective protection and a rich, masculine appeal.
With a double-walled circular opening, the lid is vacuum-fit to securely hold the custom wooden bottle top in place. To give the carton added strength, the textured woodgrain paper was laminated to vat black stock in a semi-automated process, and then glued to Eska stock.
The carton was then hand assembled using six custom-designed forming tools.
JUDGES AWARD
The Judges' Award was given to Thoro Packaging, Corona, CA, for its 2012 Holiday Promotional package, which shows how a folding carton can go beyond the typical rectangular box. The front panel is perforated into a movable bin, reinforced by a locking panel.
Bin side panels form movable reinforcing flaps that prevent the candy from interfering with the movement of the bins. Finally, an insert adds rigidity and helps separate the "nice" mints from the "naughty" chocolates.
ECO AWARD
This year's nine Eco category entries were appraised according to how paperboard replaced a less-sustainable substrate and/or utilized clean production processes, saved on energy or materials, or reduced transportation and fuel costs.
The Eco Award went to Graphic Packaging International, Atlanta, GA, for its Yuengling Tite-Pak 12-Count carton for D.G. Yuengling & Son Inc. GPI developed partitions in the shape of shark fins that are pushed up from the base between the heels of the bottles to reduce breakage and lessen the noise they make during transit.
The proprietary Tite-Pak design integrates into existing brewery equipment with no stops or interruptions and without diminishing line speed. Since the system utilizes existing material from the package's bottom panel, there are no additional material costs.
innovation award
The 15 entries in the Innovation category were assessed on how the package demonstrated a unique, innovative structural design or how it utilized cutting-edge materials such as substrates, inks, laminations, coatings, and/or converting processes.
The Innovation Award went to ASG, Stamford, CT, for the Stride ID Gum package for Kraft Foods, which feature MagneteX, a new extruded magnetic coating that is applied inline to the surface of the pack. The coating permits consumers to easily open and close the gum packets without wear and tear.
For more information on the competition and a complete list of honorees and photos, visit paperbox.org/CC.