Published: March 29, 2016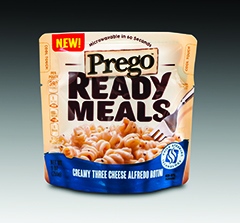 NEENAH, WI | Bemis Co. Inc. has been recognized by the Flexible Packaging Assn. during its 60th annual awards program with the Highest Achievement Award for the Campbell's Ready Meals pouch.
"We are honored to be acknowledged, along with our customer, for this innovative new package," said William Jackson, VP and chief technology officer. "Leveraging our new Innovation Center and our disciplined approach to delivering innovation, we moved this package rapidly from concept to grocery store shelves. The Ready Meals pouch is an excellent example of how collaborative customer relationships and our technological expertise can be leveraged to help our customers grow."
The Campbell's Ready Meals self-venting pouch is designed for busy consumers seeking convenient, portable meals. The microwave-friendly design includes cool touch zones, Bemis Magic Steam technology, and controlled venting to eliminate hot or cold spots. The Ready Meals package is the first self-venting retort pouch for portable meals that looks and functions like a bowl. After cooking, consumers can conveniently enjoy the meal directly out of the bowl-shaped pouch.
The Flexible Packaging Assn. has conducted the Flexible Packaging Achievement Awards competition since 1956 to showcase innovation and advance the use of flexible packaging. One of the industry's most respected recognitions, the Flexible Packaging Achievement Awards competition focuses on packaging excellence, technical innovation, printing and shelf impact, and sustainability. The Highest Achievement Award is evaluated by the judges as possessing overall packaging excellence, significant attributes in all award categories, and contributing most to the advancement of the industry.
For more on the awards, click here.