PFFC brings you exclusive White Papers from our online sponsors.

Visit Kelly on Static from Static control expert Dr. Kelly Robinson, president of Electrostatic Answers; Kelly has 27+ years of experience in problem-solving and consulting.

Visit Tim's Web Lines to handle and wind your paper, film, foil, and similar products. Take advantage of Tim's 25+ years just like over 100 converters have.

Visit Mark's Coating Matters from fluid coating expert Mark D. Miller; Process improvement and project management for precision roll-to-roll coating applications.

Visit Marketing Mojo for dynamic marketing insights from Stephanie Millman that inspire new ideas on how to stay on top of your customer's mind.

Visit Yo's Yarns to share the thoughts, impressions, experiences, and news that impact the converting industry. . . or anything else that happens to be on her mind!

Visit Tom's Poly Ploys, where Tom will be writing on various topics that the typical polymer processor would encounter on the job.
June 01, 2010, By Nsenga Thompson, Associate Editor
The Gravure Assn. of America, Paramus,NJ, recently announced its Golden Cylinder Awards, an annual program showcasing the visual beauty and technical innovation gravure printing offers. Whether it's the attention to detail in a postage stamp or the complexity of printing a box suitable for a 42-in. television, this year's winners demonstrate that quality gravure printing comes in all sizes.
Here is a peek at a few of the winning entries. Visit www.gaa.org for a complete list of winners.
The Flavor Comes Through

Ukrplastic, Kyiv, Ukraine, is honored in the Packaging-Film category for its Nescafé Montego Coffee package. This entry is said to demonstrate high-tech approaches applied at the prepress stage for processing slides and manufacturing printing forms. Stochastic screening is used to make the print cylinders. Intensity and contrast in the image reportedly are due to precise ink register while printing.
A Seasonal Winner

In the Packaging-Labels/Wrappers: Paper category, Multi-Color Corp., Batavia, OH, is honored for Leinenkugel's Oktoberfest beer label, which features a variety of reds, yellows, and oranges to complement the brewer's seasonal fall beer. Slight vignettes along the edge of the label create a feeling of the impending season. Tight registration is required to bring this scene to life, particularly in the leaves, tent, and hat details, the company reports.
Highlights Done Right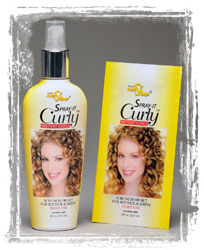 SleeveCo Inc., Dawsonville, GA, is recognized in the 26-In. and Less Narrow Web category for its Spray-It Curly sleeve. The challenge of this entry is the balance between the flesh tones and hair. An emphasis is placed on the highlights in the hair to accentuate the use of the product. According to the company, the end-user is highly critical of the reproduced image, so print quality was a significant key during production.
Nice & Smooth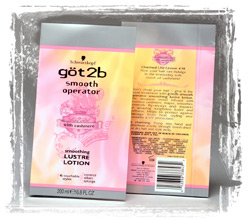 Multi-Color Corp. is honored in the Packaging-Label/Wrappers: Film category for Schwarzkopf's göt2b Smooth Operator lotion label. The customer has high requirements for color matching, the converter reports, and maintaining the light reproductions and tight registration is tricky on press. The combination of vibrant solids and soft, subtle vignettes is said to require the most versatile in printing processes.
Smokin' Hot Carton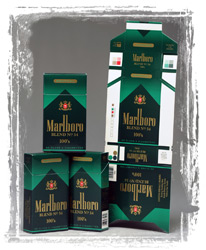 The Marlboro Blend No. 54 100's flip-top box and carton is honored in the Packaging-Paperboard category and earns engraver Trident Americas, Charlotte, NC, an award. Varying the depth and not the width of the conventional cell shape, produced using direct laser engraving, leads to a near-continuous tone reproduction of the dark green, resulting in a smooth vignette that shows no linking or hard lines, the company reports. The packages are produced at Shorewood Packaging's Newport News, VA, facility.
A Touch of Class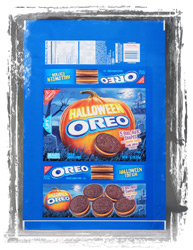 In the Technical Innovation-Packaging category, Sonoco Flexible Packaging, Hartsville, SC, is a winner for Nabisco's Oreo Halloween Edition cookie package. While vibrant graphics and a classy image offer shelf appeal, the technical innovation comes from in-line-applied patterned permanent and resealable adhesives that combine to provide easy open access to the product. Applied using deep cell engraving produced on the direct lasers at Trident Americas, Charlotte, NC, the two-ply laminate uses a precise die-cut to create an opening on the top and bottom surfaces. By not applying adhesive to the pull tab area, the tab is used to open the resealable layer — exposing the contents of the package — which can be reclosed to preserve freshness.
Etched in Time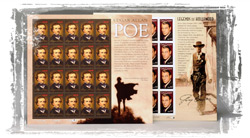 Edgar Allan Poe/Gary Cooper postage stamps from Avery Dennison Security Printing Div., Clinton, SC, earn a nod in the Product-Postage Stamps & Security Printing category. Panes of 20 stamps are printed using 300-400 line screens to reproduce images with high detail on a press that can hold register tolerance to less than 0.006. Both stamps do a good job representing different times in history and demonstrate that the gravure process can reproduce very good quality products and still keep the significance of time, the company says.
True-to-Life Color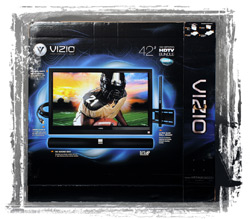 Packaging Corp. of America, Lake Forest, IL, is recognized in the Packaging-Paperboard category for its Vizio corrugated preprint container. The continuous-tone image file size is fairly large, and color corrections were done to make the television's image standout. Because the package size exceeds the limit of the converter's maximum cylinder circumference of 82 in., the job is separated into two pieces, two panels per piece, by using 58-in.-circumference cylinders. The panels are printed fine-screen, four-color process with one Pantone orange and a water-based coating.