PFFC brings you exclusive White Papers from our online sponsors.

Visit Kelly on Static from Static control expert Dr. Kelly Robinson, president of Electrostatic Answers; Kelly has 27+ years of experience in problem-solving and consulting.

Visit Tim's Web Lines to handle and wind your paper, film, foil, and similar products. Take advantage of Tim's 25+ years just like over 100 converters have.

Visit Mark's Coating Matters from fluid coating expert Mark D. Miller; Process improvement and project management for precision roll-to-roll coating applications.

Visit Marketing Mojo for dynamic marketing insights from Stephanie Millman that inspire new ideas on how to stay on top of your customer's mind.

Visit Yo's Yarns to share the thoughts, impressions, experiences, and news that impact the converting industry. . . or anything else that happens to be on her mind!

Visit Tom's Poly Ploys, where Tom will be writing on various topics that the typical polymer processor would encounter on the job.
November 07, 2011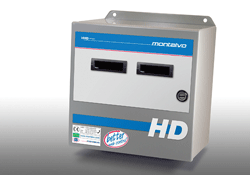 The i4-HD tension indicator from MontalvoGORHAM, MA | The Montalvo Corp. has developed a new tension indicator designed to provide accurate and repeatable web tension. The i4-HD offers either single or multiple tension zone monitoring and can be supplied with analog or LCD digital meter displays.
The unit is said to provide excitation voltage as well as zero and calibration circuitry; a measurement range that accommodates most applications; a 24-volt alarm output with an adjustable trip point; and an output that can interface with PLC, PC, or DC/AC or servo drives. It is compatible with most semiconductor strain gauge and foil gauge load cells and the full range of Montalvo load cells.
Diagrams showing how the i4-HD indicator works, dimensional drawings, operating and storage temperature ranges, and a full list of specifications are available on Montalvo's web site.