PFFC brings you exclusive White Papers from our online sponsors.

Visit Kelly on Static from Static control expert Dr. Kelly Robinson, president of Electrostatic Answers; Kelly has 27+ years of experience in problem-solving and consulting.

Visit Tim's Web Lines to handle and wind your paper, film, foil, and similar products. Take advantage of Tim's 25+ years just like over 100 converters have.

Visit Mark's Coating Matters from fluid coating expert Mark D. Miller; Process improvement and project management for precision roll-to-roll coating applications.

Visit Marketing Mojo for dynamic marketing insights from Stephanie Millman that inspire new ideas on how to stay on top of your customer's mind.

Visit Yo's Yarns to share the thoughts, impressions, experiences, and news that impact the converting industry. . . or anything else that happens to be on her mind!

Visit Tom's Poly Ploys, where Tom will be writing on various topics that the typical polymer processor would encounter on the job.
October 31, 2013
LAKE VILLA, IL | Burnishine Products has announced that its deletion pen for Fuji baked plates has been repackaged to provide both the regular deletion tip and a new fine tip for making minute corrections.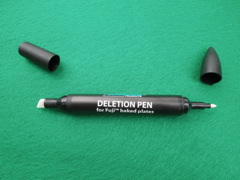 Burnishine president Roger Giza says, "Feedback from users of [our] deletion pen for Fuji baked plates led us to provide an extra fine tip for printers needing precise corrections. The formulation of the pen remains unchanged."
Since 1887 Burnishine has manufactured a broad line of pressroom and related chemical products, including plate chemicals, blanket and roller cleaners, fountain solutions, and a line of related cleaning products. All Burnishine products are manufactured in the US.