PFFC brings you exclusive White Papers from our online sponsors.

Visit Kelly on Static from Static control expert Dr. Kelly Robinson, president of Electrostatic Answers; Kelly has 27+ years of experience in problem-solving and consulting.

Visit Tim's Web Lines to handle and wind your paper, film, foil, and similar products. Take advantage of Tim's 25+ years just like over 100 converters have.

Visit Mark's Coating Matters from fluid coating expert Mark D. Miller; Process improvement and project management for precision roll-to-roll coating applications.

Visit Marketing Mojo for dynamic marketing insights from Stephanie Millman that inspire new ideas on how to stay on top of your customer's mind.

Visit Yo's Yarns to share the thoughts, impressions, experiences, and news that impact the converting industry. . . or anything else that happens to be on her mind!

Visit Tom's Poly Ploys, where Tom will be writing on various topics that the typical polymer processor would encounter on the job.
May 28, 2013
GREENVILLE, WI | Badger Plug offers steel plugs ranging from 1–12 in. in diameter. Light- and heavy-duty plugs are available in both flange and flangeless models.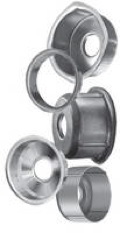 Company offers a wide selection of steel core plugs along with other roll protection and suspension products, including plastic and wood core plugs, sleeve plugs, wooden end boards, plastic pad plugs, and a number of other innovative roll shipping solutions. In-stock inventory is said to allow for immediate shipment. Custom engineering and design services are also available.