PFFC brings you exclusive White Papers from our online sponsors.

Visit Kelly on Static from Static control expert Dr. Kelly Robinson, president of Electrostatic Answers; Kelly has 27+ years of experience in problem-solving and consulting.

Visit Tim's Web Lines to handle and wind your paper, film, foil, and similar products. Take advantage of Tim's 25+ years just like over 100 converters have.

Visit Mark's Coating Matters from fluid coating expert Mark D. Miller; Process improvement and project management for precision roll-to-roll coating applications.

Visit Marketing Mojo for dynamic marketing insights from Stephanie Millman that inspire new ideas on how to stay on top of your customer's mind.

Visit Yo's Yarns to share the thoughts, impressions, experiences, and news that impact the converting industry. . . or anything else that happens to be on her mind!

Visit Tom's Poly Ploys, where Tom will be writing on various topics that the typical polymer processor would encounter on the job.
September 18, 2012
DERRY, NH | Allen Datagraph Systems (ADSI) announces the launch of the iTech CENTRA HS Digital Label System, a solution built to manufacture label runs of 1,000–3,000 linear ft (305–915 linear m) of substrate for label convertors of all sizes. System combines the label printer with the iTech CENTRA HS Digital Label Finisher, introduced in 2011.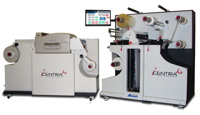 Company says this complete roll-to-roll solution fits the needs between tabletop label production and full-scale production with low ongoing operational expenses and reduced waste. Company says the LED toner printer images consumer-quality labels with durable, consistent color at 1,200 dpi X 600 dpi, at speeds to 30 fpm (9.1 mpm). Features a maximum width of 12.9 in. (327 mm) and maximum roll diameter of 14 in. (355 mm).
ADSI VP of sales and marketing Mark Vanover, says, "We have been very fortunate to partner with OKI Data Americas, who offered us a print engine that has exceptional print quality and keeps up with the speed of our finishing system. It's a compact, affordable, and easy-to-operate roll-to-roll printer."
The finishing system allows users to laminate, die-less cut, strip the waste matrix, and slit custom labels in one production pass. It can die-cut any custom shape and convert printed materials from any digital or analog print platform, including inkjet and thermal printers or a conventional flexo press in maximum roll diameter of 14 in. (355 mm) up to 14 in. wide (355 mm).
Print-to-cut registration is accomplished via the SMARTMark Optical Registration System. Multiple registration marks can be scanned to automatically adjust the cut file, compensating for any skew or scale issues that may have been caused by the output device or the material. The computer-driven cutting technology is capable of cutting multiple depths within the same cut file allowing for perforations or multilayer applications.