PFFC brings you exclusive White Papers from our online sponsors.

Visit Kelly on Static from Static control expert Dr. Kelly Robinson, president of Electrostatic Answers; Kelly has 27+ years of experience in problem-solving and consulting.

Visit Tim's Web Lines to handle and wind your paper, film, foil, and similar products. Take advantage of Tim's 25+ years just like over 100 converters have.

Visit Mark's Coating Matters from fluid coating expert Mark D. Miller; Process improvement and project management for precision roll-to-roll coating applications.

Visit Marketing Mojo for dynamic marketing insights from Stephanie Millman that inspire new ideas on how to stay on top of your customer's mind.

Visit Yo's Yarns to share the thoughts, impressions, experiences, and news that impact the converting industry. . . or anything else that happens to be on her mind!

Visit Tom's Poly Ploys, where Tom will be writing on various topics that the typical polymer processor would encounter on the job.
July 10, 2012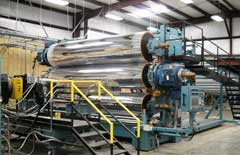 The EX-M-PLAR III roll stand (shown without guards) is instrumental in helping Polymer Industries produce high quality HMWHDPE sheet for commercial dump truck liners.PAWCATUCK, CT | A new Davis-Standard extrusion system is enabling Polymer Industries of Henagar, AL, to control in-house production of high molecular weight (HMW) high-density polyethylene (HDPE), polypropylene (PP), pipe-grade HDPE, and low-density polyethylene (LDPE) sheet.
Polymer Industries, the fastest growing polyolefin sheet manufacturer in the world, is committed to supporting new processes and applications. As such, they are the only company in the industry to offer 12-ft (3.7m) plus wide HMW sheet as well as equal sales in both HDPE extruded sheet and ultra-high molecular weight (UHMW) pressed sheet.
The Davis-Standard system, installed at the Alabama facility, is being used to process HMWHDPE sheet at rates of 1,400 lbs (635 kg) per hour for making commercial dump truck liners. The HMW provides higher impact strength to make this product stronger and more wear resistant.
"We have been a Davis-Standard customer since 1993, so we trust their expertise. As expected, the new equipment is performing well," said Andy Saigal, president of Polymer Industries. "This installation is a key part of our growth strategy because we are the only company within our market segment to produce both HMW and UHMW in-house. There are other companies who can produce HMWPE, but they do custom runs only and do not market it specifically for dump truck liners. Our sister company in India not only markets HMWPE, but also UHMW for abrasive construction materials. It's created a niche market where we've had a lot of success."
The newly installed system features an 8-in. (200mm) Thermatic air-cooled extruder, DSB barrier screw with cavity transfer mixer, temperature control panel, screen changer package, and 165-in. (4,191mm) EX-M-PLAR III sheet rollstand system. The EX-M-PLAR gives Polymer Industries the ability to achieve exacting sheet thicknesses with an individual roll drive system and motorized gap control. Most of the sheet coming off the line is produced in half-inch (12mm) thicknesses.
Polymer Industries is the world's third largest producer of specialty polyolefin, semi-finished products. Nearly 75% of the company's business is domestic, with the remainder supporting international markets. The facility in India serves customers in Asia, the Middle East, and Australia. Sheet made by Polymer Industries is used in everything from cutting boards, to playground equipment, to restroom partitions and marina dock bumpers.