PFFC brings you exclusive White Papers from our online sponsors.

Visit Kelly on Static from Static control expert Dr. Kelly Robinson, president of Electrostatic Answers; Kelly has 27+ years of experience in problem-solving and consulting.

Visit Tim's Web Lines to handle and wind your paper, film, foil, and similar products. Take advantage of Tim's 25+ years just like over 100 converters have.

Visit Mark's Coating Matters from fluid coating expert Mark D. Miller; Process improvement and project management for precision roll-to-roll coating applications.

Visit Marketing Mojo for dynamic marketing insights from Stephanie Millman that inspire new ideas on how to stay on top of your customer's mind.

Visit Yo's Yarns to share the thoughts, impressions, experiences, and news that impact the converting industry. . . or anything else that happens to be on her mind!

Visit Tom's Poly Ploys, where Tom will be writing on various topics that the typical polymer processor would encounter on the job.
April 17, 2012
Copol Intl., based in Cape Breton, Nova Scotia, has invested in its first FILMEX cast film extrusion line from machinery manufacturer, Windmoeller & Hoelscher (W&H). With the new FILMEX line, Copol will expand its current portfolio to include five-layer (cast Polypropylene) (CPP) films, which can provide enhanced film properties.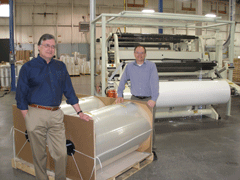 David Sawler, VP of business development, and Denis Lanoë, VP of operations & general manager, in COPOL's Cape Breton, NS, plant.The FILMEX is scheduled for mid-autumn 2012 production. In anticipation of its arrival, Copol will research additional five-layer cast film structures using the full production size laboratory line at W&H headquarters in Lengerich, Germany.
Autumn marks not only the arrival of the FILMEX line, but also Copol's 20th anniversary. The company was founded in 1992 solely for the production of CPP films and has grown into a major presence in the North American CPP industry, currently providing customized mono- and three-layer films for food and textile packaging, industrial applications, and heath care products.
David Sawler, Copol's VP of business development, said, "Copol has enjoyed much success over its history, but we are not resting on our laurels. Consumer demands are changing and packaging is changing to meet those new demands. To be on the leading edge of the CPP film industry, we need to expand our manufacturing capabilities and focus on new, value-driven product development. We want to play a major role in shaping the direction of the industry and investing in this type of advanced equipment will allow us do that."
The added capacity also will afford Copol the flexibility to expand its customer and market base with products produced on both its existing monolayer and three-layer extrusion lines.