PFFC brings you exclusive White Papers from our online sponsors.

Visit Kelly on Static from Static control expert Dr. Kelly Robinson, president of Electrostatic Answers; Kelly has 27+ years of experience in problem-solving and consulting.

Visit Tim's Web Lines to handle and wind your paper, film, foil, and similar products. Take advantage of Tim's 25+ years just like over 100 converters have.

Visit Mark's Coating Matters from fluid coating expert Mark D. Miller; Process improvement and project management for precision roll-to-roll coating applications.

Visit Marketing Mojo for dynamic marketing insights from Stephanie Millman that inspire new ideas on how to stay on top of your customer's mind.

Visit Yo's Yarns to share the thoughts, impressions, experiences, and news that impact the converting industry. . . or anything else that happens to be on her mind!

Visit Tom's Poly Ploys, where Tom will be writing on various topics that the typical polymer processor would encounter on the job.
October 30, 2013
GURGAON, INDIA | After more than a dozen unidirectional label slitter/rewinders with inspection systems, comes the next step forward for Webtech Labels. During the recently concluded Labelexpo Europe 2013 at Brussels, Webtech signed an order for a Grafotronic Pharma 380 R High Speed Inspection & Re-Inspection Machine, which is the latest and niche offering from the Grafotronic stable.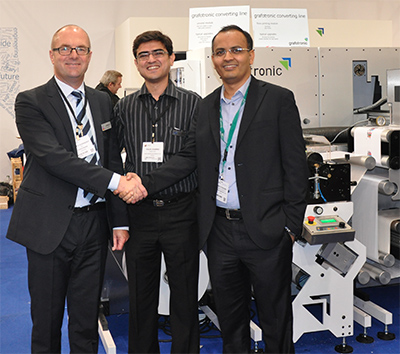 The R-Series, which can be customized as per the user needs for different modules, is a horizontal inspection machine concept with bi-directional web movement that brings 100% inspection to a new level of productivity and user friendliness. The focal point of this equipment is the linear servo buffer, which facilitates re-inspection and consequently delivery of truly 100% inspected rolls.
"Adapting to the latest trends in the label industry and investing into the most modern technologies has been our forte. Re-inspection is a unique concept, which we believe will further add value to our stringent quality controls especially for the 100% inspection of pharmaceutical labels," says Amar B. Chhajed, managing director, Webtech Labels Pvt. Ltd.
Håkan Sundqvist, managing director, Grafotronic, adds, "I would emphasize that our R-Series would only offer true 100% label inspection, which is critical for the pharma industry. We treasure Webtech's order and would look forward to working with them closely to provide multitude solutions".
"Webtech is always ready to embrace leading-edge technologies, hence they've been the industry pioneers. We are privileged to have their order at Labelexpo for the re-inspection machine from Grafotronic, who are a fast growing and innovative company," said Naalin Sharma, director, Global Graphics Machineries Pvt. Ltd.