PFFC brings you exclusive White Papers from our online sponsors.

Visit Kelly on Static from Static control expert Dr. Kelly Robinson, president of Electrostatic Answers; Kelly has 27+ years of experience in problem-solving and consulting.

Visit Tim's Web Lines to handle and wind your paper, film, foil, and similar products. Take advantage of Tim's 25+ years just like over 100 converters have.

Visit Mark's Coating Matters from fluid coating expert Mark D. Miller; Process improvement and project management for precision roll-to-roll coating applications.

Visit Marketing Mojo for dynamic marketing insights from Stephanie Millman that inspire new ideas on how to stay on top of your customer's mind.

Visit Yo's Yarns to share the thoughts, impressions, experiences, and news that impact the converting industry. . . or anything else that happens to be on her mind!

Visit Tom's Poly Ploys, where Tom will be writing on various topics that the typical polymer processor would encounter on the job.
February 09, 2012
TROY, OH | Spinnaker Coating, a manufacturer of adhesive-coated papers and films, became an S Corporation ESOP, effective February 1, 2012.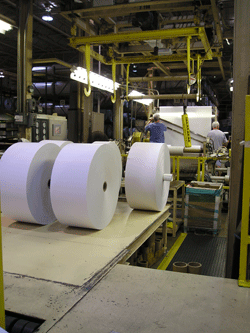 Spinnaker Coating's employees produce adhesive-coated papers and films.In the transaction, prior investors sold 100% of their ownership interest to a newly created Employee Stock Ownership Trust, allowing current and future employees to gain a beneficial ownership interest in the Company without any personal investment. Effectively, the ESOP is a qualified retirement plan which, based on company performance, could generate significant retirement benefits for Spinnaker's approximately 250 Employee Owners.
Louis A. Guzzetti Jr., chairman and CEO of Spinnaker, says, "This transaction will give our employees a financial interest in the success of the business, making the positive bonds between Spinnaker teammates even stronger than they are today. It represents a very tangible way to reward those who have played the critical role in Spinnaker's success since we purchased the assets of our predecessor company out of bankruptcy in 2002. Today, we are a robust competitor in the pressure-sensitive industry, based primarily on our customer-driven culture that places service at the top of our priority list. Delivering unparalleled service requires great employees who are focused and dedicated to the business at hand. That clearly describes our team, and we are thrilled to be able to provide this benefit to them."
What They Do, and How
Applications for Spinnaker's labels include food (meat and cheese packaging, frozen food packaging, deli/bakery); apparel; household products; drums; price marking; tracking; and vials and test tubes.
The company operates two facilities in Troy: a 100,000-sq-ft plant that houses essentially all of its coating and slitting equipment, and a 75,000-sq-ft portion of the original Brown-Bridge facility that the company now uses primarily for sheeting and shipping products for its merchant clients.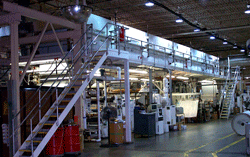 A 60-in. Black Clawson silicone coater operates at 1,400 fpmAmong the equipment at the Troy coating facility are two 60-in. coaters: a Magna Graphics (Davis-Standard) emulsion unit and a Park (Bolton Emerson Americas) hot melt unit, as well as a $2.5 million 60-in. Black Clawson (Davis-Standard) unit that operates at 1,400 fpm and is used for silicone coating.
Ups and Downs
Since its inception in 1928, Spinnaker has been through several ups and downs, most notably a corporate restructuring in 2002. Under new management, Spinnaker was able to restore its profitability without a single layoff.
Dan Potts has been with the company for 27 years, through many of those ups and downs. "…In addition to periods of success, there were definitely times when my family and I were concerned about my job and our future. With the creation of an ESOP, I know that all of us on the shop floor will feel confident that our jobs aren't going to disappear. We look forward to becoming even more productive members of an organization that we know, by their actions not just words, truly values everyone who works at the company."
Pat Konkol, director of service excellence, agrees. "Spinnaker becoming an ESOP company shows that it believes in the employees and their ability to grow the business into the future. It provides stability for growth and supports the company's philosophy that we will only be successful by bringing value to our customers. This is a great day for our company."