Published: October 24, 2011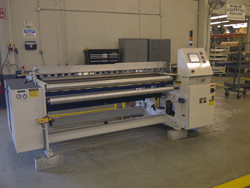 GLOUCESTER, MA | Gloucester Engineering has received multiple orders from Laddawn to provide equipment to Laddawn's new facility in Sparks, NV. Laddawn, a privately owned manufacturer of PE bags, film, and tubes headquartered in Devens, MA, purchased a new 104-in.-wide blown film line from Gloucester in August. Following quickly upon this order, Gloucester was awarded an order for four bag machines that will also go to the Nevada facility.
The primary end products that will be manufactured by the Gloucester equipment, which has a nameplate capacity of approximately 10,000,000 lbs/yr, includes sheeting and in-line bags.
Randy Kinnear, purchasing and industrial development manager for Laddawn, says, "The Laddawn team has had a positive relationship with Gloucester for years, and they were the obvious choice for the new expansion for both extrusion and converting needs. The GEC extrusion lines are workhorses that just keep pushing pounds, year after year after year."
The new site in Nevada is subject to seismic 4 constraints, and another reason for Laddawn's choice was the fact that Gloucester's engineering department quickly addressed a variety of seismic issues surrounding the design of the blown film tower and its integration into the new building. In addition, Gloucester was able to commit to Laddawn's aggressive delivery schedule requirements in order to maximize ROI.