Published: July 01, 2008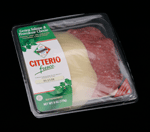 As part of its commitment to environmental responsibility, Citterio USA, Freeland, PA, is introducing new packaging for its CITTERIO fresco product line featuring authentic Italian specialty meats. The new packaging, produced with EarthClear earth-friendly packaging materials from Clear Lam Packaging, utilizes renewable resources derived from plant-based plastics, providing barrier properties that retain freshness while minimizing the impact on the environment.
"We're proud to be taking this important step for the environment—especially since we can do so while sticking with our commitment to provide our customers with cutting-edge packaging technologies that also lock-in the deli-like freshness of our Italian specialty meats," says Joe Petruce, VP of sales for Citterio USA.
CITTERIO fresco represents a packaging concept that locks in the quality and authentic flavor of the specialty meats the company produces and packages for just-sliced freshness. Because the products are marketed to connoisseurs of fine foods, preserving the colors, textures, aromas, and subtle flavors developed by Citterio through its time-honored curing process was an important packaging design requirement. A key challenge for Citterio and Clear Lam was maintaining this delicate balance while finding a packaging solution with minimal environmental impact.
The unique technology behind the Citterio packaging system enables the meat producers to select and slice their specialty meats right at the peak of their aging or roasting process. These perfectly aged, portion-controlled slices are layered into each package, where the oxygen is immediately removed to preserve freshness, a critical step in the packaging process. At the same time, a layer of film locks in the container's controlled atmosphere. The container also features a reclosable cover to preserve this great flavor for days after the product is opened.

Citterio USA turned to Clear Lam to help develop an earth-friendly version of the packaging that would provide real environmental benefits and also continue to meet the necessary performance characteristics.
Initially, Citterio hoped to utilize recyclable packaging for the fresco line. After researching the options, Citterio and Clear Lam decided to use EarthClear Sustainables to produce the Citterio semi-rigid packaging and deliver optimal product shelf life. This solution achieved the superior barrier properties typical of multi-layer films and laminates used for meat packaging while providing the sustainable benefits that retailers and consumers are now demanding.
"We liked the fact that the EarthClear Sustainables product line is produced from renewable resources and not oil. We know from our customers that this is something that they are concerned about" adds Petruce. If you convert ten million pounds of petroleum-based plastics into EarthClear packaging made from sustainable Ingeo biopolymers [from NatureWorks LLC], you will save 1,630,360 gallons of gasoline annually and reduce greenhouse gases equivalent to driving a car 36,788,160 miles in the USA.(1)
Petruce adds that a nice byproduct of the new CITTERIO fresco packaging made with EarthClear has been the improved clarity of the container, which now provides a stronger visual presentation of its products.

Most importantly, "Working with Clear Lam to develop this innovative new packaging fits our company's larger environmental strategy to reduce our carbon footprint, something we're also doing through our efforts with other suppliers," he says.

The CITTERIO fresco line features the new EarthClear earth-friendly packaging logo to clearly communicate to consumers the environmental benefits associated with each package.
Citterio USA makes a variety of Italian-style specialties from premium-quality meats that are crafted and aged following traditional methods. The Citterio name represents a commitment to quality in the making ever since 1878 with the founding of the company's parent firm in Milano, Italy. Today, Citterio USA creates its classic specialties for the American market high in the clean, dry air of Pennsylvania's Pocono Mountains using the same time-honored techniques developed by the founding family for authentic and traditionally Italian quality.
Converter Information
Clear Lam Packaging | 1950 Pratt Blvd., Elk Grove Village, IL 60007 | 847-439-8570 | www.earthclearpkg.com

Supplier Information
NatureWorks LLC | www.natureworksllc.com
1 These benefits are provided as an example and are based on the eco-profile of Ingeo biopolymers and available data on PET. Assumes replacement of one pound of PET with an equivalent weight Ingeo biopolymer with no changes in the eco-footprint associated with downstream processing from polymer to finished package.