Published: April 07, 2010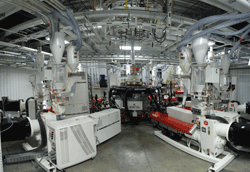 MUNDELEIN, IL | Amcor Flexibles Europe & Americas announces the installation of a new Windmoeller & Hoelscher nine-layer, high-performance blown film line in a controlled environment in Amcor Flexibles' Mundelein, IL, facility.  "This multi-million dollar investment is central to Amcor's ongoing commitment to meeting our healthcare customers' requirements for innovation, quality and value," says Tom Cochran, President, Americas & Medical Europe.
Specifically tailored to the production of medical films, the new line is equipped with auto-gauging, web cleaners, and vision systems to ensure the highest quality. "The new line enhances our capabilities to develop and manufacture next generation peelable films, oxygen and moisture barrier films, and high-performance forming films," comments Michael Barr, product manager Americas, Coex & Converted. "In addition, Amcor can utilize the new lines' capabilities to improve films used in our lamination processes."
The new line is identical to a nine-layer line recently installed in Amcor Flexibles' Gent, Belgium, facility. The two sister lines offer customers back-up manufacturing capabilities within Amcor to ensure continuity of supply.