Published: June 30, 2009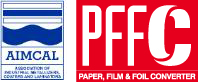 FT. MILL, SC | The Assn. of Industrial Metallizers, Coaters & Laminators (AIMCAL) and Paper, Film & Foil Converter (PFFC) jointly offer--on July 14th at 11 A.M.--12 P.M. EDT--the first in a coating method series by Dr. Ed Cohen and Friends.
This first Webinar, titled "Utilizing Mayer Rod Coating Technology," will feature Doug Krasucki of R.D. Specialties and Dr. Ed Cohen of Edward Cohen Consulting. They will tackle the Mayer rod as one of the most widely used coating methods. Considered an effective, versatile, and inexpensive coating technique, it gives good coating quality and uniformity. This Webinar will discuss the fundamental operating principles of the Mayer rod and the hardware and technology needed to effectively run the process.
Specific topics to be discussed are:
Why it is (and should) be used
How it functions
Hardware configurations
Operating Range
Identification of key variables
Products
How to use effectively
Space is limited so reserve your Webinar seat now at: https://www1.gotomeeting.com/register/349884224