Published: September 29, 2005, By pffc-online.com
PRESS RELEASE
RONKONKOMA, NY—Flexographic Technical Association (FTA) has released it's first-ever market research study, "Converter Benchmarking & End-User Perspectives in North America." The study was compiled by industry consulting and market research firm LPC and offers insights into the North American flexible packaging industry, including nearly 100 charts and graphs. The study is divided into three sections: a North American overview of the flexible packaging market, a focus on the flexible packaging converter—designed for companies to benchmark their own processes against the industry average—and an end-user perspective on priorities and projections.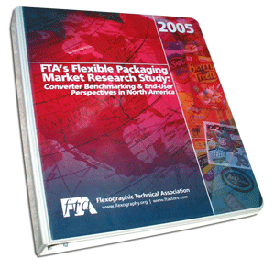 According to the study, the flexible packaging converting market in North America is estimated to reach $22 billion in sales by the end of this calendar year, with 75% of that volume representing actual printed pieces. Furthermore, the total market for flexible packaging is estimated to grow by 5%-6% over the next three years.
The study is available in binder and CD-ROM formats and can be ordered by calling FTA's Customer Service Department at 631/737-6020 or by visiting ftastore.com.



---