Published: March 12, 2013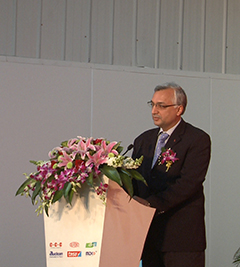 SHANGHAI, CHINA | DuPont Packaging Graphics, Xi'an Aerospace-Huayang, and other prominent flexographic printing industry associates recently hosted the opening of the Shanghai CI Flexo Technology & Innovation Demo Center at the MDK Shanghai plant. The demo center is devoted to supporting flexographic printers, tradeshops, and brand owners in the fast-growing China market.
More than 230 guests attended the event and participated in live flexographic printing demonstrations and discussions regarding best practices in printing. Future developments in flexographic printing and meeting the needs of the growing local printing market for improved quality, productivity, and sustainability also were key areas of focus. The demo center features the latest flexo printing technology developments and printing solutions including flexographic plate and plate making systems, inks, tapes, anilox rollers, and printing machinery.
"The Shanghai CI Flexo Technology & Innovation Demo Center is the first flexographic printing demo center of its kind here," said Jagdish Kumar, Asia Pacific business director, DuPont Packaging Graphics. "It represents a key collaboration of companies across the flexographic printing value chain that is devoted to technological innovation to benefit China's flexographic printers. DuPont has been focused on accelerating the development of new DuPont Cyrel technologies that address the local market needs for quality, productivity, and sustainability. This collaboration is targeted to help China flexographic printing industry in achieving world class standards. We are honored to participate and will continue to enable advancement in the flexographic printing industry in China."